The White Mountains inspire superlatives: tallest, coldest and windiest. Their crowning glory—Mount Washington, at 6,288 feet—is the highest in the Northeast and the views from the top are breathtaking. You can see the Presidential Range, with nine peaks above 5,000 feet. (In addition to the scenery, this spot can offer some of the most severe weather conditions in the world.)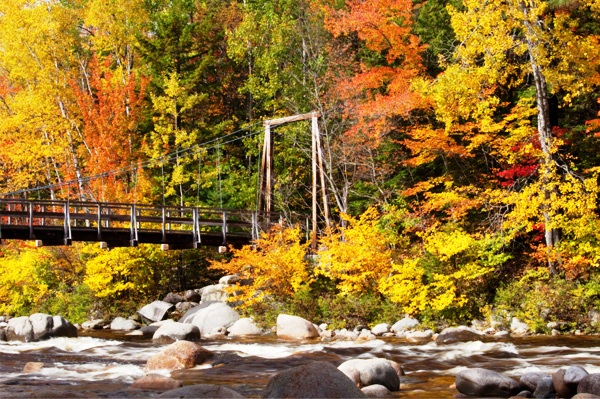 Reach the summit by car on an eight-mile private road (the $20 (£13) admission includes a 'This Car Climbed Mt. Washington' bumper sticker) or by train. In operation since 1869, the Mount Washington Cog Railway (the first such railway in the world) pushes cars up the mountain at a steep angle and in the winter transports skiers to trails that run parallel to the tracks. Another option, the Conway Scenic Railroad, operates beautifully restored vintage cars that run in a more horizontal fashion around the Mount Washington Valley and through the dramatic mountain gap, Crawford Notch.
The magnificent Mt. Washington Resort at Bretton Woods charms guests with its classic beauty redolent of another era. A sprawling white 1902 building with a cherry red roof is at the centre of the 1,500-acre complex, which offers golf, tennis and horse riding, but is probably best known for its downhill and cross-country skiing—it now boasts Olympic medallist Bode Miller as its director of skiing.
Hundreds of picturesque driving and hiking routes, including the Appalachian Trail, criss-cross the White Mountains. The only interstate highway runs north-south, so driving east-west means using smaller state roads, such as the Kancamagus Highway. As part of the 100-mile White Mountains Trail, the 34.5-mile section of Route 112 that connects Lincoln and Conway has been designated a National Scenic and Cultural Byway.
The White Mountain National Forest, with its waterfalls and backcountry lakes, surround the twists and turns of the 'Kanc', which climbs to nearly 3,000 feet and offers numerous opportunities to pull off the road and take pictures.