Visiting Hoover Dam while you are in Las Vegas
Exploring Hoover Dam And The New Bypass Bridge Hoover Dam is a true American icon. Rising 700 feet, the dam has been holding back the powerful Colorado River for more than 75 years. For Las Vegas visitors, it's a cinch to visit this historic landmark. Tours options include bus, helicopter, and airplane. And each is guaranteed to deliver you an experience you'll never forget.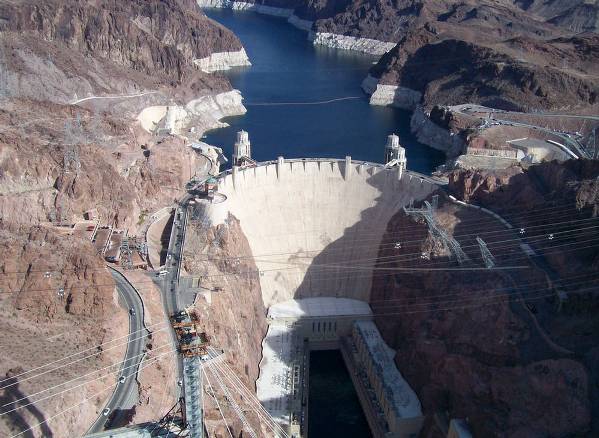 Hoover Dam bus tours are hands down the most popular way to visit the dam. Packages include hotel pick up and drop off.
The typical route heads east out of Las Vegas, cutting through Boulder City and then dropping into the Lake Mead National Recreation Area. From here, you descend slowly into Black Canyon until you arrive at the dam.
En route, most tour buses feature either live or taped narration about Henderson, NV, Boulder City, NV, the Dam's construction, and Lake Mead. Here's some Hoover Dam primer facts to get you started:
1. Dam height: 726.4 feet, which makes it the second highest dam in the United States behind the Grand Coulee Dam based in Washington state.
2. Dam length: 1,244 feet. Connecting Nevada to Arizona, the dam spans Black Canyon and the Colorado River.
3. Dam thickness: 660 feet. In addition to holding back the river, the structure features a two-lane road, which, before 2001, was frequently used by trucks to haul freight
4. Traffic across the Dam: 13,000 to 16,000 per day
5. Annual number of visitors: 8 to 10 million
6. Named after Herbert Hoover, the 31'st president of the United States. He was the commerce secretary at the time of construction.
7. Number of workers who died during construction: 112
You'll spend about two hours at the Dam. You can either explore it by yourself or take a guided tour, which is free and includes full access to the Movie Room, Exhibit Rooms, and Observation Deck. The Generator Room is also highly recommended – a small fee is required but it's well worth it.
Categories: Abacos, Las Vegas, Nevada, USA
Tags: Arizona, casinos, Colorado River, Family vacations, Golf Vacation, Grand Coulee Dam, Hoover Dam, Lake Mead, Las vegas, nevada, Shopping, sightseeing, United States