Showcasing hotels with or near pizza restaurants in Chicago. Listen for that oh-so-satisfying crunch as you dive into a tavern-cut thin crust, lose your fork in pie-like layers of a deep-dish pizza, and salivate over the cheesy goodness oozing from stuffed-crust slices. When it comes to Chicago, pizza dough and tomato sauce are the bread and butter of this city. Chi-Town is a feast for your eyes—and stomach—as some of the city's best hotels are just minutes from the hottest slices in town.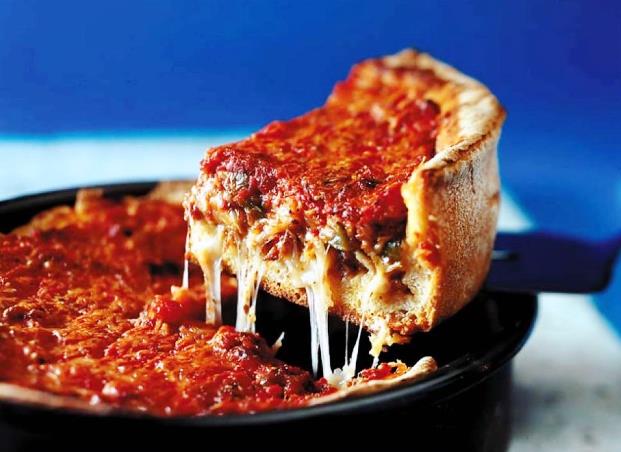 On your next Windy City jaunt, chew on this—our list of 10 Chicago hotels within easy access of the region's famous pies. Based on verified traveler reviews on Expedia.com, these top accommodations are located less than a mile from some of the most coveted Chicago pizza places. Book your flights to Chicago, bring your appetite, and get ready to dig in!
1. ACME Hotel Company Chicago – Pizzeria Uno
ACME Hotel Company Chicago is located in downtown Chicago. A trendy boutique hotel, it prides itself on its tech-savvy ways as it boasts in-room plug and play hook-ups, ACME HOTSPOT TO-GO mobile connection, and lightning-fast Wi-Fi access.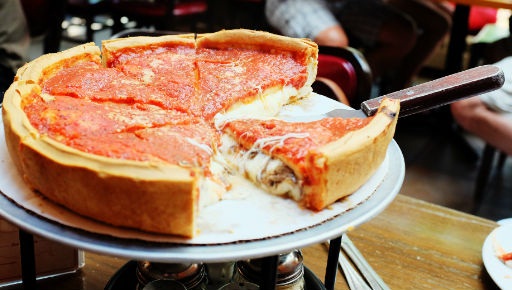 One Expedia.com verified reviewer wrote the following about the ACME hotel, "Great location, friendly staff, comfy bed, awesome shower/bathroom, very convenient to train and bus stops, and just down the street from Pizzeria Uno (great Chicago-style deep-dish pizza)…Great value for the price, especially considering the location. It was the perfect hotel for us, and we have already recommended it to friends and family for future Chicago visits."
You can't get a taste of Chicago without sinking your teeth into some thick, deep-dish pizza. UNO Pizzeria & Grill, which first tossed up deep dish in 1943, serves slices just 154 feet east of the ACME hotel. Named the "The Healthiest Chain Restaurant in America" in 2005 by Health Magazine, this pizzeria whips up flatbread pizza and artisan crusts, too.
2. Best Western Grant Park Hotel – Lou Malnati's
The Best Western Grant Park Hotel is more than just a place to rest your tired feet. In addition to its expertly appointed accommodations, this budget-friendly lodging features a fitness room, outdoor pool, business center, coffee shop, and even an on-site restaurant.
"Nice hotel, clean room, friendly staff…" said an Expedia.com verified commenter about the Best Western Grant Park Hotel. "A great place for pizza is four blocks away, Lou Malnati's—yummy!! I would stay here if we go back to Chicago."
During a stay at the Best Western, take a bite out of Chi-Town at Lou Malnati's Pizzeria, which is just a seven-minute walk from the hotel. Ranked among the best pizza places in Chicago, this family-owned pizza joint presents piping-hot homemade deep-dish pies with "Malnati's World Famous Buttercrust." Tomato sauce practically runs through this family's veins, as the Malnati name is also associated with the original Pizzeria Uno and Pizano's Pizza & Pasta in Chicago.
3. Carlton Inn Midway – Giordano's
Carlton Inn Midway is all about the convenience factor. From its shuttle service and complimentary breakfasts to its 24-hour front desk service and easy access to the CTA Orange Line train, this hotel goes above and beyond to accommodate its guests.
"The staff was friendly and very helpful. The location was fantastic, given that it wasn't in downtown," one reviewer, verified by Expedia.com, commented about the Carlton Inn. "They have a great shuttle policy that I've never experienced before—they'll give you a ride anywhere within 2 miles, and of course to the airport…The driver was really friendly, and gave us a great dinner suggestion of a famous Chicago-style pizza place (Giordano's- yummy!) that was pretty close to the hotel."
When you stay at the Carlton Inn Midway, Giordano's famous stuffed-crust pizza is so close you can almost taste it. Just under a 10-minute walk from the hotel, Giordano's is best known for its double-crusted, cheese-stuffed pie—a recipe that's been in the Giordano family for more than 200 years. Serving meat, cheese, and veggie combos, this pizza place claims their pies are 40% bigger than their competition's deep dishes.
4. MileNorth Chicago – Gino's Pizza
Chic and cutting edge, MileNorth Chicago is a breath of fresh air. Decked out in neoclassical and Art Deco designs, this contemporary hotel in downtown Chicago flaunts a hip rooftop bar, state-of-the-art fitness area, café, and spacious rooms.
"The staff was friendly and incredibly helpful. I forgot my toothbrush and they brought one up to my room…The room was very clean and the bathroom was roomy," an Expedia.com reviewer commented about MileNorth Chicago. "Loved the location, it was right next to a very popular historic pizza place, and walking distance from some of the best restaurants and shopping in Chicago! Will definitely come back!"
Step outside of MileNorth and catch a whiff of Gino's East pizza. Located a mere 69 feet west of the hotel, this pizza parlor has been spinning "legendary deep dish pizza, since 1966." Because Gino's East spices up its traditional pies with bacon stuffed jalapenos, giardiniera, and sweet pepper toppings, it's no wonder it's one of the most talked about Chicago pizza restaurants in town.                                                         
5. River Hotel – Bella Bacinos
It's all in the details at River Hotel. Offering loaner iPads, universal charging stations, and in-room yoga kits, this lodging provides thoughtful amenities to ensure your stay is unforgettable. Request an ambient sound machine, take advantage of the iPod docking stations, and chow down at the on-site restaurant, Bella Bacino's.
Expedia.com verified a reviewer who raved, "The value for the price paid was exceptional. The room was small, but attractive and comfortable. The Italian restaurant on premise is excellent and regarded by Chicagoans as having one of the best deep-dish pizzas in town. I would stay here again, no problem."
Bella Bacino's is conveniently located within River Hotel for when your pizza cravings strike. It's committed to tossing up pizzas with fresh, never frozen ingredients, including Italian-imported wheat and 100% Wisconsin cheese. Though the trattoria is perhaps best known for its spinach supreme, which was the first heart healthy pizza to earn a spot on the Chicago Heart Associations Eat Well Guide.
6. Embassy Suites Chicago Downtown – Pizzeria via Stato
Embassy Suites Chicago Downtown offers everything at your fingertips. On-site convenience store? Check. Barber shop? Check. Complimentary made-to-order breakfasts, fitness room, and business center? Check, check, and check. From pool areas to restaurants, you'll be pressed to find a reason to ever leave the hotel grounds.
"Love the location. It's close to everything…" commented one Expedia.com verified reviewer. "The restaurant in the hotel had some very yummy pizza, too. Starbucks is next door, which is great when you need a latte. Loved the breakfast and manager's reception. Will stay here again in the future."
It's really hard to think about anything but pizza in Chicago, so the good news is that Pizzeria Via Stato is attached to Embassy Suites in case of emergency cravings. If pizza with red sauce is calling your name, order the margherita, but if a white pizza is more up your alley, go for the creminelli sopressa or quattro formaggi.
7. Hostelling International Chicago – Pauly's Pizzeria
HI Chicago, The J. Ira and Nicki Harris Family Hostel, provides communal-style quarters, perfect for getting to know other travelers. The earth-friendly hostel includes a game room, common areas, complimentary breakfast, and a 24-front desk service, among other convenient amenities.
"The desk people were friendly and informative, the room was large and very clean, and not to mention, had the warmest blankets I had during my whole stay in Chicago…" reviewed one commenter, who was verified by Expedia.com. "There are many restaurants around, big chains like McDonald's and Dairy Queen, but also some local fare. Pauly's Pizza was the best pizza I've had in a long time…"
Mosey just .3 miles north of the hostel and Pauly's pizza can be yours! This joint crafts their pies from scratch and tops them off with the family's secret tomato sauce recipe. With gourmet, New York-style thin crust, Chicago-style deep dish, and stuffed pizzas, whatever your hankering, Pauly's has you covered.
8. The Whitehall Hotel – Fornetto Mei
Stay and play at The Whitehall Hotel, where famous faces such as Mick Jagger, Katharine Hepburn, and Paul Newman once lodged. This charming boutique hotel, located on Magnificent Mile, dazzles with marble floors, chandeliers, and imported Egyptian cotton linen.
"Lovely rooms, well priced, outstanding location, and the pizza from the restaurant is some of the best in the city!" Reviewed one Expedia.com commenter, while another reviewer wrote, "…Service is excellent, location is prime, and the pizza oven pizza is delicious."
Prep your palate for the flame-baked thin crust pizzas at the Whitehall's restaurant, Fornetto Mei. Italian for "beautiful little oven," this trattoria bakes its slices on an open flame, exuding the taste of the boot-shaped country. Red grapes, aged mozzarella, and chili oil give these traditional pizzas revamped bursts of flavor.
9. Renaissance Chicago O'Hare Suites Hotel – D'Agostino's Pizza and Pub
An airport hotel has never looked so good. Located fewer than 4 miles east of O'Hare International Airport, the Renaissance Chicago O'Hare Suites Hotel offers the comforts of home with spacious accommodations featuring separate bedrooms, living areas, and dining rooms.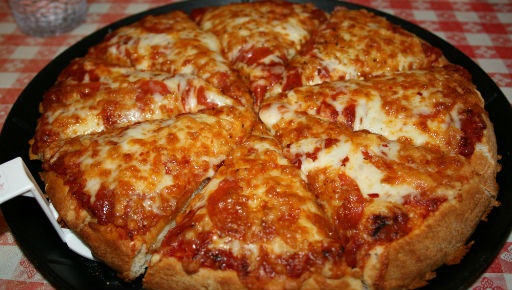 "My family and I took our vacation to Chicago wanting a very convenient way to get to the airport and to the major sites without having to rent a car. The Renaissance was just that…" an Expedia.com verified reviewer wrote. "The location of the hotel was also of walking distance to a grocery store for snacks, and D'Agostino's for Chicago-style pizza. My family of six really enjoyed their stay at the Renaissance."
Give into your passion for pizza, and nosh at D'Agostino's Pizza and Pub, just a mile northeast of the Renaissance hotel. It's all in the family at D'Agostino's, where the clan has been whipping up its famous pizza in Chicago since 1968. Pick your poison—thin crust, Chicago-style deep dish, or stuffed deep dish—and then top it off with your choice of fresh ingredients.
10. Silversmith Hotel Chicago Downtown – Pizano's Pizza & Pasta
The Silversmith Hotel Chicago Downtown expertly merges modern designs with the hotel's historical details. With sophisticated style, this boutique hotel provides a fitness room, business center, and meeting areas, all within a block of Magnificent Mile.
"The Silversmith Hotel was excellent—we loved our stay! Decor is wonderfully updated, yet architectural features (cornices, door enhancements) remain to show off hotel history. Silver accoutrements accent each room—even the waste cans!" wrote an Expedia.com reviewer. "Proximity to Michigan Ave, Millennium Park, and local (reasonably-priced) restaurants was great! Miller's Pub had the best spanakopita and Pizanos' deep-dish pizza (with outside seating) was very tasty…We will be back!"
The famous Malnati name pops up again at Pizano's Pizza & Pasta, another slice of the family pizza empire. A simple 387-foot stroll from the Silversmith, this pie parlor has been nationally recognized as a top pizza contender and was even spotlighted on Oprah's Quest for the Best. Dig into the crispy thin crust pizza, voted #1 in Chicago, and you just may turn your back on pies from anywhere outside of the Windy City.