Mauritius, an emerald jewel in the Indian Ocean, attracts large numbers of holidaymakers who flock there for the sun, sea and silvery sands. But increasingly, the hotels in Mauritius are playing host to visitors looking for a different kind of 's' scuba diving!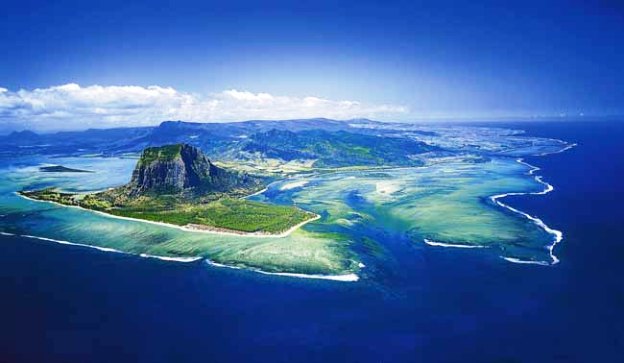 The warm waters that lap the island's shores are popular with underwater fans of all levels who enjoy year round diving holidays in Mauritius. A coral reef extends around the entire island creating an enchanting, underwater playground. If you are a beginner, you can explore the shallows close to shore, and most hotels in Mauritius will offer an expert to guide you through your dive. The more adventurous underwater explorer can head out to one of the many wrecks or caves around the island.
The Cathedral
This popular site is located off the Flic en Flac on the western coast of Mauritius and is definitely a "must visit" site on your diving holiday to Mauritius. The dive begins at 18m, then drops very sharply to nearly 30m. Although the bottom is quite sandy and bare, along the cracks and crevices of the chamber you can make the acquaintance of an abundance of marine life characters. You may brush shoulders with Gropers, Wrasse, Sweetlip, Angelfish and Clownfish. You will see scores of shrimp and crayfish on the move as well perhaps enjoying their own holidays in Mauritius! The dive narrows along a kind of chute and then opens out into a large cathedral like cavern illuminated by filtered sunlight. The diffused light gives the site an almost ethereal aura, but beware of the giant Moray Eel that dwells in the dark recesses of the cave!
Rempart Serpent
It is easy to see how this unusual site got its name. Literally translating to "Snake Reef", this incredible rocky pocket is over 100m long. As its mesmerising blanket of seaweed bends and sways in the slow moving waters, it resembles a slow moving snake sliding across the ocean floor. Strangely barren looking, Rempart Serpent is not only home to the usual brightly coloured tropical fish, but also home to huge numbers of sinister looking stonefish, scorpion fish, lionfish and Moray Eels. Most hotels in Mauritius will arrange diving excursions to this unique site under the guidance of a knowledgeable marine expert.
Stella Maru
Any diving holiday in Mauritius should include an expedition to at least one wreck site. The waters around the island are home to many easily accessible wrecks, but one of the most striking is that of the Stella Maru, at Trou aux Biches on the North West coast. Resting at a depth of around 25m, the Stella Maru is an old Japanese trawler sent to a watery grave in 1987. Although sunk on her side, her huge bulk now sits upright on the ocean floor after a massive cyclone in 2002. Relatively intact, the Stella Maru is an imposing sight, made all the more dramatic by the vibrant surrounding coral and hordes of exotic tropical fish darting by. Huge Moray eels have also made their home in its bulkhead. This is a particularly good site for keen underwater photographers looking to capture some amazing images while on their holidays to Mauritius.