New York City is known as a City that never sleeps. There are great things to experience, from outstanding restaurants and shopping to great sightseeing opportunities and activities. One experience you wouldn't want to miss is eating out. Yes The New York city has the best of restaurants and the best of cuisine that it can offer in the whole world. It has the variety of cuisine from all over the world.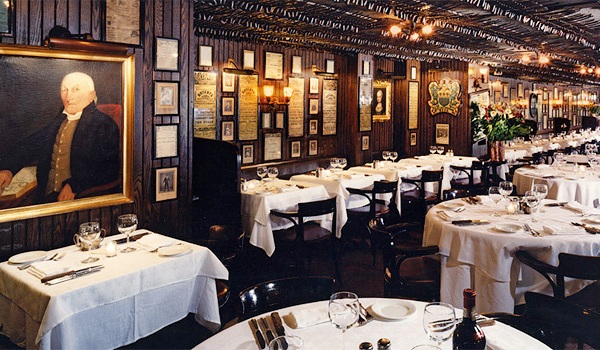 You just must not miss it. You won't believe but its true you can enjoy a fancy expensive dine or you can chill out with a best pizza ever. You can lavish it or have budget meal all is available in this city. This city will not disappoint you.
In order to enjoy all that the New York City offers there is a list of place given where you can enjoy the best steaks. The list below gives the name of the best New York restaurants who offer juicy porterhouse or New York Strip steak, anything New York City steak houses offers all variety and best kind of steaks you would have ever tasted.
1.Peter Luger Steakhouse:  Peter Luger has been named the best steakhouse in New York City by Zagat Survey for 28 years in a row. The Brooklyn location is known for its long wooden bar, and the "dining rooms have a Teutonic air, with exposed wooden beams, burnished oak wainscoting, brass chandeliers and weathered beer-hall tables. It's a cash only restaurant but it has the best steaks. They have been serving the most outstanding porterhouse steaks in Williamsburg, Brooklyn. This restaurant is just a short cab ride from Manhattan and well worth the trip.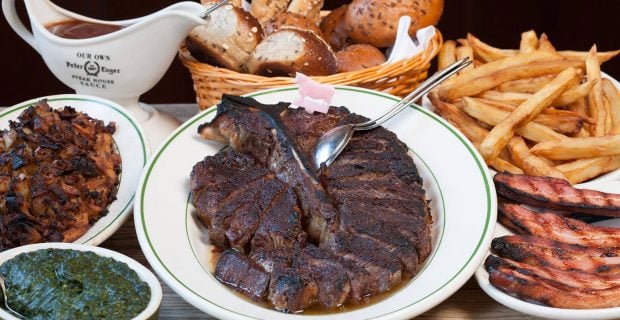 2.The Strip House: . A sultry steakhouse in New York City's Greenwich Village where old-world glamour meets modern style and sophistication. Experience the combination of charred cuts perfectly paired with decadent sides, such as Truffle Creamed Spinach and Goose Fat Potatoes. And be sure to save room for the famed 24-Layer Chocolate Cake.  Big appetite is recommended, you start with lobster's bisque and then you can dig into the New York Strip, rib-eye or porterhouse steaks.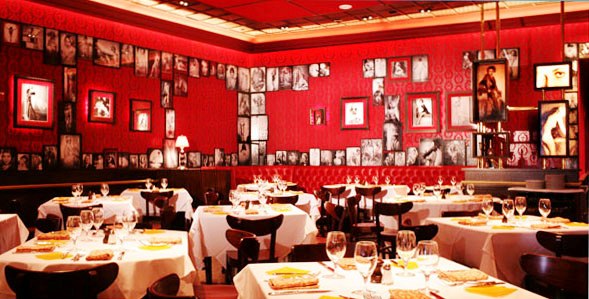 3.Sparks steakhouse:  Sparks Steak House was opened in 1966 by Michael and Pasquale Cetta. The restaurant is still a family owned and operated business and is located in midtown Manhattan, a five minute walk from Grand Central Station and The United Nations. The restaurant is well known for excellent steaks, seafood, fresh vegetables and satisfying salads. And of course, the huge wine list.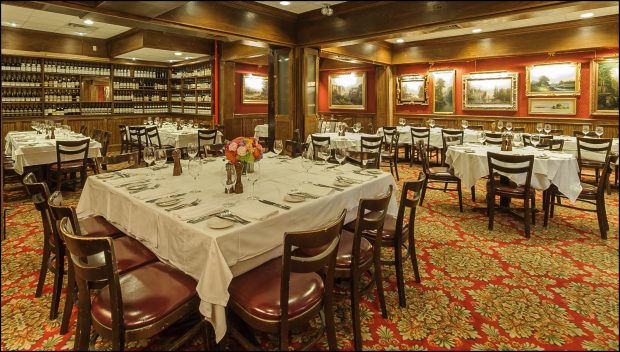 4.Keens Stakehouse: In 1885 Keens Chophouse opened independently under the ownership of Albert Keen, by then a noted figure in the Herald Square Theater District. Keens soon became the lively and accepted rendezvous of the famous. Today, Keens is the only survivor of the Herald Square Theater District. Well known for its scrumptious mutton chops, the steaks with top-notch sides.
5.BLT Steak:  Located in the heart of midtown, BLT Steak is our interpretation of the classic steakhouse, coupled with signature style and all-around finesse. BLT Steak combines a bistro ambiance with steakhouse fare. Certified Black Angus or USDA Prime steak are dressed with a selection of sauces, ranging from Bearnaise to Horseradish, and are paired with decadent sides such as Parmesan flavored Gnocchi and oversize Onion Rings. The main highlight in this restaurant is the rib-eye and hanger steaks. The steaks are severed with your choice of sauce, including béarnaise, horseradish and three mustard varieties.
6.BLT Prime Discover BLT Prime in Manhattan's enchanting Gramercy Park neighborhood. Unwind and dine in a comfy yet modern suede banquette on the first floor, overlook the handsome dining room from the mezzanine or sit in our outdoor café on tree-lined 22nd Street. The menu, organized by category, and complemented with corresponding savory sauces, guides diners to steakhouse bliss. Start your meal with our warm signature popovers and savor entrees like American Wagyu Ribeye or a 28-day dry aged Porterhouse Steak.
7. Wolfgangs : This Midtown steakhouse is proud to serve you with an amazing meal with the utmost in quality and service. Menu items include their signature Porterhouse, Filet Mignon, Ribeyes, Lamb Chops and Fresh Seafood dishes like meaty crab cakes, lobster and much more. Wolfgang's Steakhouse is also available for private parties and events.
8.Old Homestead steak house: Located in the heart of the former meatpacking district, in what has become one of Manhattan's trendiest neighborhoods for entertainment, culture, hospitality and nightlife, Old Homestead has operated from the same place since opening its doors in 1868 – making it one of the longest continually serving restaurants in America.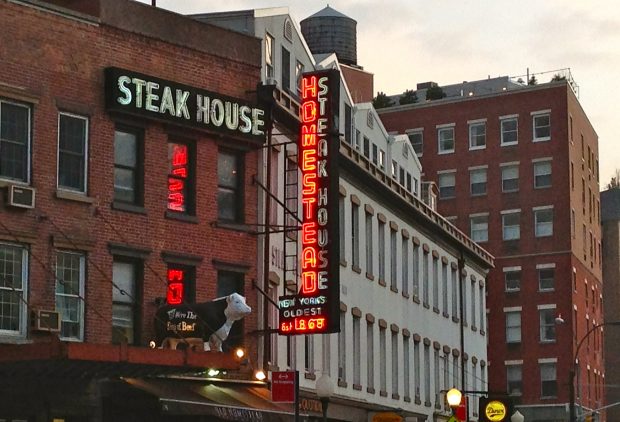 9.Del Frisco's: Del Frisco's of New York is an energetic, sprawling, three-story restaurant located in the heart of Mid-town Manhattan. The restaurant features floor-to-ceiling windows that offer grand views of the action of Sixth Avenue and nearby Rockefeller Center. Del Frisco's treats guests to an unforgettable experience through our chef-driven cuisine, world-class wine program and unparalleled hospitality. Features: Private Dining, Wine Cellar, Views, Power Bar, Lounge. Del Frisco's Double Eagle Steak House embodies the rich tradition of fine American steakhouses, impeccable prime steaks, seafood, award-winning wine list and unparalleled hospitality.
10.Palm Restaurant: The Palm, located at the famous address of 837 Second Avenue, New York, New York, is The Palm Restaurant's flagship location. Still in its original 1926 location.