Traveling to Beatiful Genoa
If you are looking for a European tourist destination, consider the Liguria region of northern Italy, commonly known as the Italian Riviera. This thin strip of land lies on the Ligurian Sea, not far from Monaco and the French Riviera. While Liguria is by no means undiscovered, its crowds are much smaller than those next door. This beautiful region is home to many little towns or villages, and the international port city of Genoa almost smack dab in the center of the coast. This sometimes beautiful, sometimes ugly city of about six hundred thousand calls itself La Superba (the Proud). Be sure to read the other articles in this series: eastern Liguria, western Liguria, and Cinque Terre, five little seaside villages that just might steal your heart.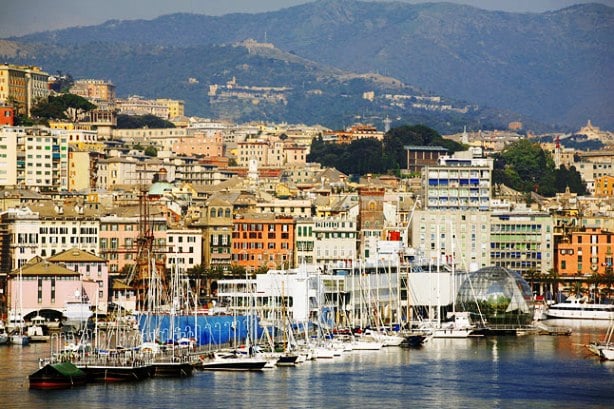 Because of its excellent location and great harbor, the city of Genoa has been around for thousands of years. Over its long history Genoa was destroyed on several occasions. Towards the beginning of the Eleventh Century the city Genoa became the Republic of Genoa, an independent city-state. At its high point this republic controlled Liguria, Piedmont, Sardinia, and Corsica. Genoa was a major player in the Crusades, establishing colonies in the Middle East, in the Aegean, in Sicily, and Northern Africa. Genoese Crusaders brought home a green glass goblet from the Levant, which many Genoese consider to be the Holy Grail.
Times changed and by the Seventeenth Century Genoa was no longer a major power. In 1797 Napoleon conquered Genoa and it was annexed to France a few years later. While Genoa is proud to have liberated itself from French rule, shortly afterwards it was incorporated into the Kingdom of Sardinia. Another proud moment in Genovese and Italian history occurred in 1860 when Giuseppe Garibaldi set out from Genoa with over a thousand volunteers to launch his successful campaign for a united Italy.
Categories: Abacos, Europe, Genoa, Italy
Tags: Christopher Columbus, City Vacations, Doria, Family vacations, Genoa, Italian Riviera, Italy, Liguria, Ligurian Sea, Mediterranean Sea, sightseeing