Downtown hip meets uptown style at Tribeca Grand Hotel, in one of the most trendy and fashionable Manhattan neighborhoods. Sleek and slightly decadent, Tribeca Grand occupies a fabulous mid-century building. A central atrium crowns the seductive destination restaurant and bar, Church Lounge. Guest rooms are a high-tech dream — and the iStudio room, equipped with a fully loaded Mac G5, invites inspiration. For visitors who miss their pets, Tribeca will add a goldfish to the room. Guests may also borrow an iPod, a DVD or a bicycle.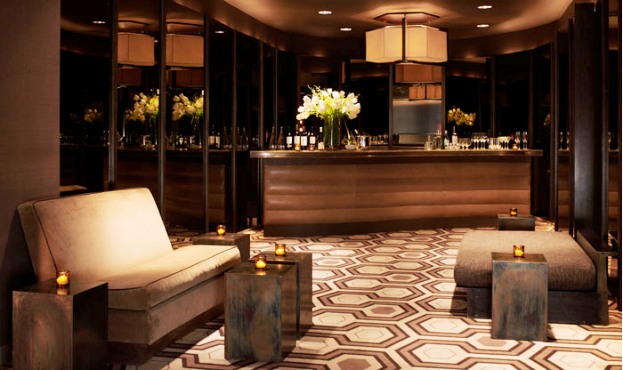 Opened in 2000 by the team behind the Soho Grand, the Tribeca Grand Hotel has 201 guest rooms and an entertainment-industry pedigree – Kanye West and Jay-Z recorded some of their Watch The Throne album here, and there's a movie theater in the basement. Its location puts you near the epicenter of the Tribeca Film Festival (hosted every spring), and walking distance from upscale restaurants like Locanda Verde, the Italian place co-owned by Robert DeNiro, the unofficial mayor of the neighborhood. 
Hotel Features
Dining options at this luxury hotel include a restaurant and a bar/lounge. Complimentary wireless Internet access is available in public areas. This 4.5-star hotel features business amenities including a business center and a meeting/conference room. The staff can provide concierge services and tour/ticket assistance. Additional amenities include laundry facilities, dry cleaning/laundry services, and an elevator (lift). Guest parking is available on a limited first-come, first-served basis (surcharge).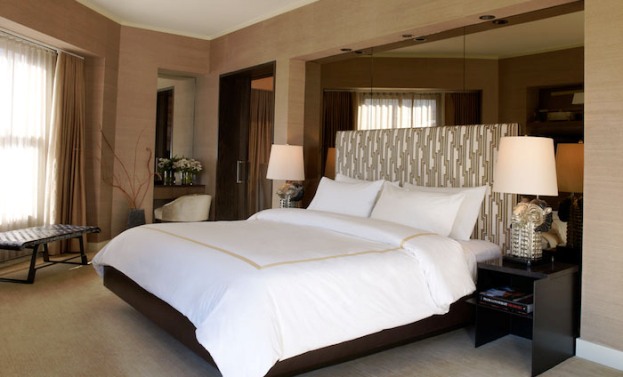 Guest Rooms
The sultry and ultramodern guest rooms and suites are outstanding, including the Grand Suite, with a private rooftop terrace. The special iStudio features the latest Apple multimedia technology, including a fully loaded iMac G5. Lounge in luxury with amenities such as a flat-screen digital cable TV with movies-on-demand, free Wi-Fi, a DVD player, a Sony Dream Machine speaker dock, iPod upon request, a two-line cordless phone with a data port and voice mail, Malin + Goetz bath products, and a gourmet minibar. For guests with pets, special amenities are available, while for guests without pets, Tribeca Grand can provide a goldfish for the room.
Marvel at the collection of Tribeca Grand services, including one-touch guest-service response, a concierge, a Grand Kids program, a Grand Pets program, preprogrammed iPod loan, DVD loan, bicycle loan, a 24-hour fitness center and the Prive Salon.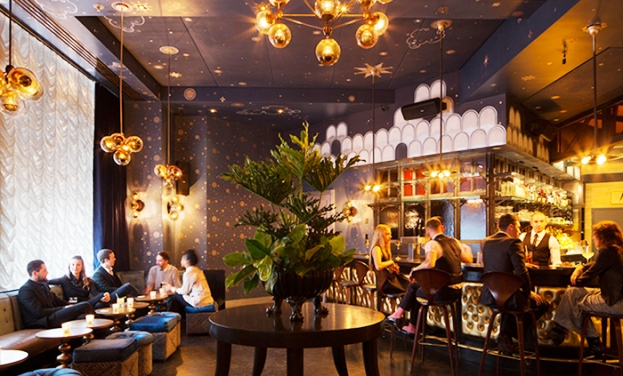 Restaurant
Step into the destination restaurant, Church Lounge, with Nouveau American dining at breakfast, lunch and dinner, plus DJs and exceptional cocktails.The spacious open atrium of the restaurant offers continuous drinking and dining service in a setting that can be endlessly reconfigured.
The Asian inspired menu, devised by the executive chef, features gourmet appetizers in signature cocktail tiers to more formal dining options. During the daytime, the lounge serves as a chic comfort zone, while at night it transforms into one of the most popular and sophisticated nightlife destinations in New York City.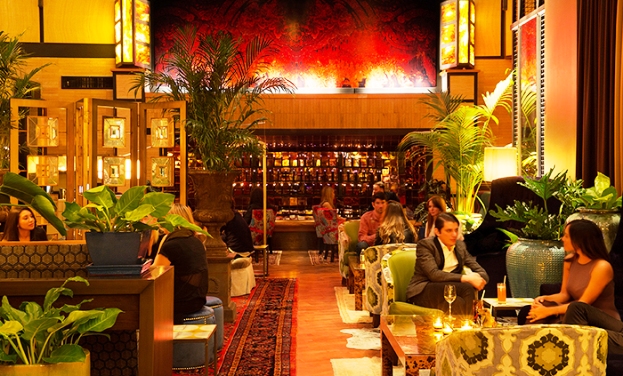 Banquets , Business and Meetings
For both business and social needs, the Tribeca Grand Hotel provides a number of catering options. The arena-style 98-seat private screening room features plush seating, state-of-the-art projection and surround sound. Adjacent to the Screening Room is the Grand Foyer, which can be combined with Studio A and B to accommodate up to 200 guests (3,000 sq ft).
24-hour around-the-clock business center offers an instant home office to keep you up to speed; including individual work stations, the choice of PC or Mac computers, high-speed Internet access, fax machines, multi-line telephones, and a copy machine to meet computing, copying, and presentation needs of all business travelers.
The 24-hour fitness room is always open, offering a variety of exercise equipment that includes treadmills, stair climbers, exercise bikes, and free weights.
Location
Located in New York (SoHo – Tribeca), Tribeca Grand Hotel is close to Collect Pond Park, One World Trade Center, and Brooklyn Bridge. Also nearby are Federal Reserve Bank of New York and The National September 11 Memorial.
Tribeca Grand Hotel
2 Avenue of the Americas
New York, NY 10013
Phone:(212) 519-6600