If you are looking for a European tourist destination, consider visiting the eastern part of the famous Tuscany region in central Italy. Depending on your interests, this beautiful area might be an ideal vacation spot. You can get classic Italian food, and wash it down with world-famous and other local wine. Many of its sites are very popular, especially in high season, but are well worth the visit. Be sure to read the companion articles in this series that present western Tuscany and the Chianti region.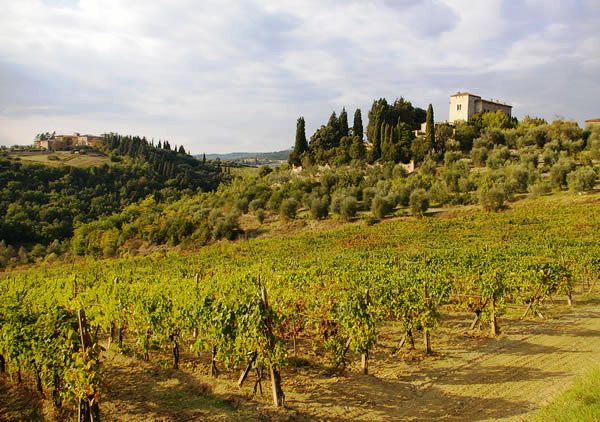 Chianti Italy
Our tour of eastern Tuscany starts at Arezzo, some fifty miles (eighty kilometers) southeast of Florence. Then we head south to Cortona before heading sourh and then east to Montepulciano, Pienza, and Montalcino. Finally we turn south to visit the spas at Saturnia.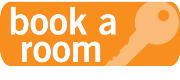 The hilltop town of Arezzo is Tuscany's third largest city.
As so often in this part of the world, make sure to find a parking place before hitting the old town. The Basilica di San Francesco hosts beautiful frescoes, restored over a period of 15 years. You will need reservations to see them up close. The Piazza Grande might have been a Roman forum initially.
It includes several palaces and hosts an antiques fair on the first Sunday of each month. More exciting is the Giostra del Saracino (Joust of the Saracen) held in mid-June and the first Sunday of September. You'll also want to see the Pieve di Santa Maria, a Twelfth Century Romanesque church whose Portale Maggiore (great door) hosts sculptures of the months and whose bell tower boasts double orders of mullioned windows. There are several churches worth seeing as well as an archeological, contemporary art, and jewelry museum. Arezzo is the initial setting of the 1999 Academy Award winning film Roberto Benigni's Life is Beautiful.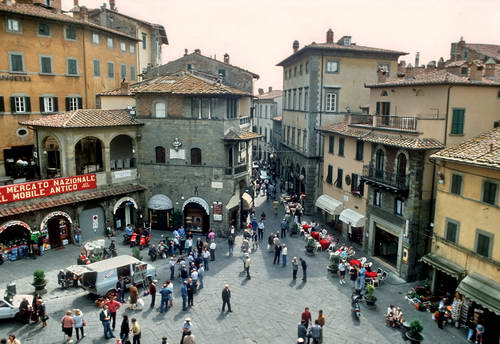 Neighboring Cortona stars in another artistic work, Frances Mayes' Under the Tuscan Sun. It now hosts the annual summer music and lifestyle Tuscan Sun Festival. This medieval hilltop town boasts a view of the surrounding Val di Chiana Valley. You can see Lago Trasimeno where Hannibal ambushed the Roman Army more than 2200 years ago. The Palazzo Casali  hosts the Museo dell'Accademia Etrusca, displaying Etruscan, Roman, and Egyptian artifacts.
Don't miss the Renaissance Santa Maria del Calcinaio Church 2 miles (3 kilometers) southeast of the city. Unfortunately the Renaissance Santa Maria Nuova Church is in poor condition and is not open to visitors.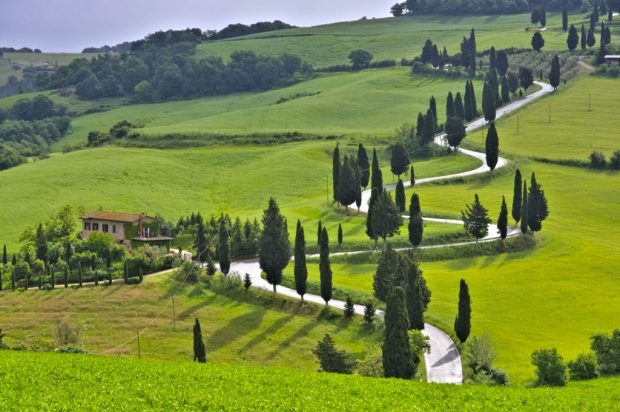 The town of Montepulciano sits on a hilltop more than one mile (almost two kilometers) high. It is cool in the summer and definitely chilly in the winter. It's home to Vino Nobile di Montepulciano, one fine Tuscan red wine. Don't confuse this Sangiovese-based wine with those made from the more pedestrian Montepulciano grape. You'll enjoy the Piazza Grande whose Duomo should be appreciated from the inside. The Church of San Biagio is outside the town walls.
It houses a painting of a Madonna designated Madonna del Buon Viaggio (Madonna of the Good Journey) that is said to protect those touring Italy.
Pienza was rebuilt by Pope Pius II; transforming the village of his birth (1405) into an ideal Renaissance town.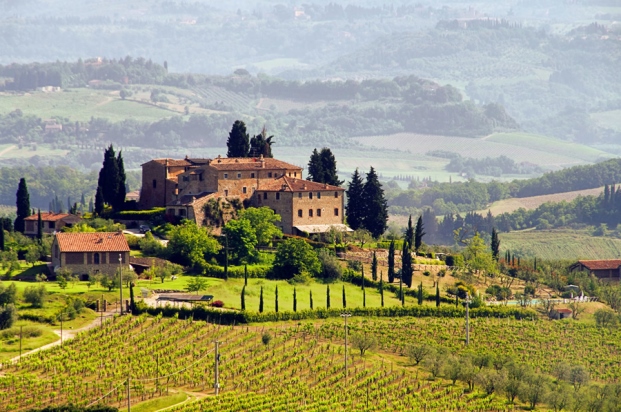 It is also home to some great pecorino (sheep's-milk) cheese. Visit the Palazzo Piccolomini that includes papal apartments, a library, a music room, and a weapons collection. The stable below had room for 100 horses. The nearby Duomo (Cathedral) is in Renaissance style but its bell tower is Germanic, honoring the years that this pope spent in Germany. Pienza boasts other palaces and a museum showcasing local textiles. The Palazzo Comunale (Town Hall) also has a bell tower; shorter than the Cathedral's tower, just in case you need be reminded who ruled the roost in those days.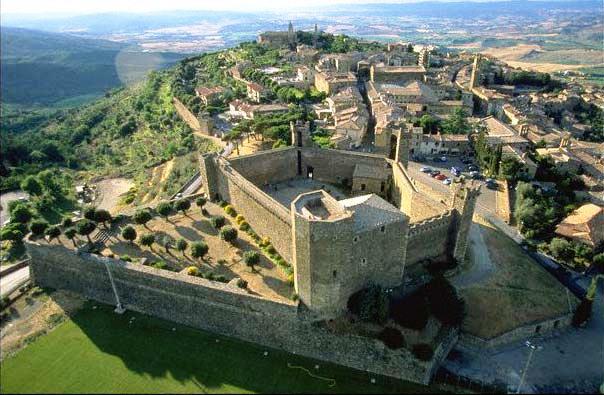 The medieval hilltop town of Montalcino is best known for the excellent Brunello di Montalcino red wine made from a clone of the Sangiovese grape. You really should taste this wine and compare it with the Vino Nobile di Montepulciano discussed above. You can do so at La Fortezza, a Fourteenth Century fortress, with a spectacular view of the surroundings and an enoteca (wine bar). The Museo Civico e Diocesano d'Arte Sacra is located in a Thirteenth Century building that was formerly the property of Augustine monks.
Be sure that you tour the Castello Banfi winery complete with a castle that includes a dungeon.
For something quite different visit the baths near Saturnia. Both the Etruscans and the Romans thought that the terme (baths) were lightning bolts that Jupiter launched at Saturn, but missed. Be that as it may, the thermal waters contain sulfur, carbon, sulfate, bicarbonate-alkaline, earth, some hydrogen sulfide gas, and carbon dioxide. In high season the falls are open 24 hours a day. The spa is quite pricey and offers a full range of health and beauty treatments.