Visiting Churches in Rome
Rome is famous for its marvelous churches of all sizes and splendor. Many of these churches and basilicas have been around for centuries and are home to beautiful pieces of artwork. Most of the churches are open to the public with a few that have museums that may charge a small fee. However, just standing outside of one of these churches is a lifetime experience before you even enter through the doors.
If you plan to visit any churches in Italy, please remember there is a dress code. Women cannot have bare shoulders. No mini skirts or shorts are allowed and men cannot wear hats.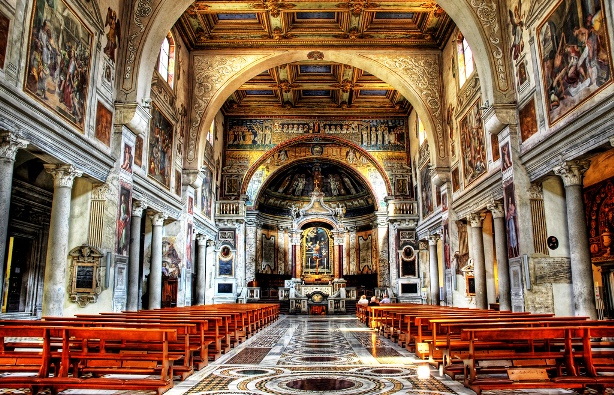 The most popular churches in Rome include San Giovanni Laterano, Saint Peter's Basilica, Santa Maria Maggiore, San Clemente, and the Saint Paul Outside the Walls.
The San Giovanni Laterano was at one time the first church of the popes. The Pope of the time lived in the Lateran palace next door. This is the very site of the first Christian church built in Rome. San Giovanni Laterano is often included in the Baroque Rome tour.
Saint Peter's Basilica is the church of the Pope today and is home in Vatican City. Not only is the church one of the largest and most important churches in the world to the Catholic faith, but also has an interior that has all visitors standing in awe at the magnitude and beauty that is found inside. The Sistine Chapel is only a few steps away with the famous ceiling painted by Michelangelo. A visit to Vatican City and Rome must include both of these famous churches in order to embrace the beauty and culture of Rome as well as a glimpse into the past.
Categories: Europe, Italy, Rome
Tags: Basilica St. Peter, Churches, City Vacations, etraveltrips, Family vacations, Gardens of Vatican City, Historical site, Itaky, Italy, Italy architecture, Italy Travel, Italy Vacation, Pope, Rome, Rome vacation, Saint Peter, Saint Peter's Square, Sistine Chapel, Tome Travel, travel, Vatican city