A viva-Las-Vegas for good clean fun, Branson is a little bitty Ozarks town of 7,000 that attracts seven million people every year to 100 glitzy shows in 49 theatres on its own neon-studded 'Strip'. But with headliner acts like Andy Williams and Ukrainian-born American comedian Yakov Smirnoff, the wildest Branson gets is when the buffalo come thundering onstage to open Dolly Parton's Dixie Stampede Dinner & Show.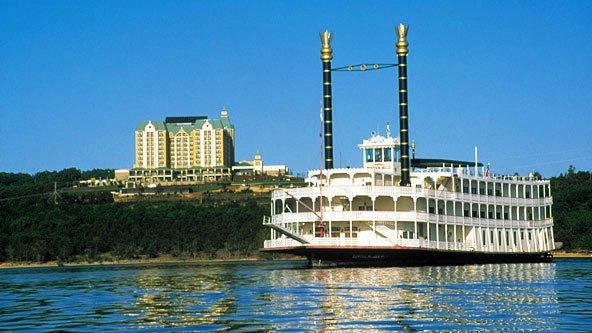 That's just fine with the families and senior citizens who have been coming to southwestern Missouri for multiple-generation entertainment since 1959. That's when four brothers who called themselves The Baldknobbers started playing country tunes and messing about in a converted roller-skating rink on State Highway 76 or the Strip. The Baldknobbers Hillbilly Jamboree is Branson's longest-running show, but the entertainment options exploded in the 1980s and '90s. Big-name country entertainers burned out from too many gruelling tours discovered that if they bought or built theatres in this beautiful setting, carved out of the ancient, wooded Ozark Mountains, their audiences would come to them.
These days you can hear just about every style of music—rock 'n' roll, jazz, Cajun, gospel, big band, you name it. And when you get tired of music, there are comedians, magicians, dancers and 'tribute artists' who bring beloved American icons such as Red Skelton back to life. Even the theme park, Silver Dollar City, a re-creation of an 1880s mining town that once stood here, is as wholesome as it gets.
To explore the countryside, hop on the Branson Scenic Railway for a 40-mile ride through the cool and otherwise inaccessible Ozark foothills and river valley. The vintage train leaves from a 1905 station in Branson (head for the Vista-Dome panoramic cars for the best seats).
You can also escape the hullabaloo of the Strip at Big Cedar Lodge—a luxury getaway styled after the grand wilderness architecture of the Adirondacks—that sits on top of a ridge near Table Rock Lake and features knotty pine panelling, lofty ceilings and massive stone fireplaces. Branson's other draw is the nearby 10,000-acre Dogwood Canyon Nature Park, a veritable wonderland for hiking, kayaking, riding and—for the less active—wildlife tram or private jeep tours. Anglers can head for its trout-rich waters or sign up for a two-day session at Orvis Fly Fishing School.
Both Big Cedar Lodge and Dogwood Canyon are affiliated with the sporting goods retail giant Bass Pro Shops, whose worshipped flagship store in nearby Springfield offers seven football fields' worth of fishing, hunting and sporting goods. Golfers come for Branson Creek Golf Club, rated one of the top 100 public courses in America, according to Golf Digest. Revered golf course architect Tom Fazio designed the challenging par-71 championship course, where duffers play year-round thanks to mild winters.
Branson kicks into high gear in April when BransonFest packs a sampling of the town's new shows into a five-day festival. Traffic jams abound in summer (slip down a pretty back road to avoid the Strip) and conga lines of motor coaches are common in October (the Ozarks deliver resplendent leaf peeping), November and December. Branson may very well be at its loveliest during the Christmas season, when every square inch of town is decked out for the award-winning Festival of Lights.
Visit the city of Branson website