Del Mar California is a dream town – an upscale ocean-side community just north of San Diego. Within the Del Mar city limits, a quaint historical village serves as a backdrop to a small seaside resort first made famous in the 1930's when Bing Crosby, Jimmy Durante and other race horse lovers from the rich-and-famous Hollywood set out to build a horse race track at the fairgrounds.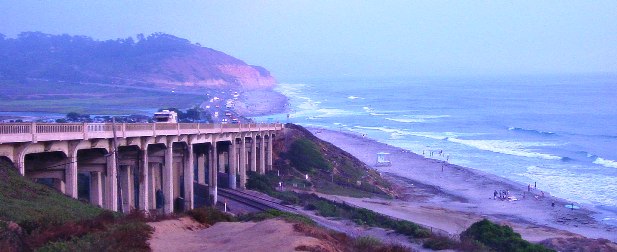 1. The Place To Be Is Epazote
Del Mar's historic downtown village dates back to the 1880's and offers over sixty unique shops, quaint inns and hotels and twenty five restaurants with enough variety to please even the pickiest of shoppers and eaters. A great place to begin or conclude your shopping and dining tour of Del Mar proper is at the impressive Del Mar Plaza at the corner of Camino del Mar (old Highway 101) and 15th Street. The plaza is the home of my favorite Del Mar restaurant, Epazote.
Epazote is a wonderful place for lunch or end of the day cocktails because it has an outdoor patio that swells with sunshine, sea breezes and enchanting panoramic views of the Pacific Ocean. It's also one of Del Mar's favorite nightlife destinations with a contemporary, upscale vibe. Sleek and sophisticated, its 180-degree views of the Pacific, a hip bar, and a cutting edge ocean view lounge makes it a great day or night experience and you can walk back to your hotel. Oh, and did I mention the food – all of it – is creative, unique and wonderful?
2. Take A Hike Through Time
Torrey Pines State Park is a 1700 acre natural habitat to the rare Torrey Pine tree and is one of few locations in the world where the Torrey Pine tree grows. The park offers seven hiking trails with stunning views of wind bent trees, abstract sandstone formations wildflowers and the sea below, all of which is constantly changing as the sun and cloud formations move to change the lighting. Locals park just outside the park in the free parking lot along the ocean and Highway 101 and walk up the hill to the Nature Center for a great workout and spectacular scenery. You can spend a whole day hiking up the cliffs and down to the ocean through red sandstone canyons carved thousands of years ago. Be sure to bring your camera because all the trails have incredible views of the Pacific Ocean. In spring and early summer the hillsides are cove red with native plants ad spectacular wildflowers.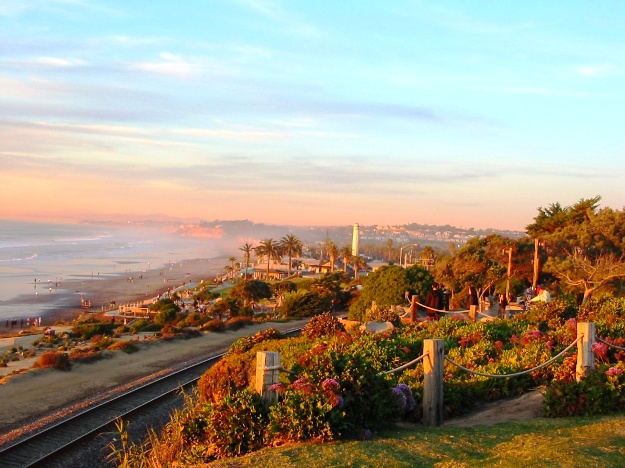 3. Up, Up and Away
Soar through the sky in a hot air balloon as it becomes part of the wind and glides effortlessly above the hills and bed and breakfast inns – a calm, peaceful and relaxing way to panoramically take in the enormity of the Pacific Ocean and San Diego countryside. Hot air balloon companies offer daily sunrise and sunset tours from a site near the Del Mar fairgrounds and race track. You'll float eastward towards Rancho Santa Fe and the Cuyamaca Mountains and experience rare views of the San Diego coastline from San Clemente all the way to Mexico.
Many describe flying in a hot air balloon as one of the most serene, enjoyable activities they've every experienced. Sunny skies and a heavenly sunset allow you to experience what it's like to float among the clouds. If you're staying at a hotel in Del Mar, you can experience the views and flights of a lifetime with Panorama Balloon Tours, Skysurfrer Balloon Tours, Magical Adventures or Sky's The Limit Balloon Adventures. Simply Google them for information.
4. Get The Tan Of A Lifetime
With 2.5 miles of sandy beaches and excellent conditions for swimming, body surfing, board surfing, boogie boarding, or just lounging in the sun, Del Mar is a vacationer's delight. A nearby bed and breakfast in Encinitas is just a block from Moonlight Beach, appropriately named the Inn at Moonlight Beach. On some beaches, residents are allowed to bring their dogs for great games of dog/human Frisbee. No matter what beach you're on, you'll see hundreds of people spending the whole day under the sun with friends and family. The best and most popular beach is at the end of 15th Street – crowded year around with families, couples, friends and surfers. Del Mar beaches are so popular because the waves are usually gentle and it's a great place to learn to surf. A good selection of Del Mar hotels are nearby.
5. Pedal Around Town
Bike riding is one of the simplest ways to have fun, enjoy the wonderful Del Mar scenery and stay fit and in-shape, especially if you're staying at a Del Mar B&B or other vacation or resort lodging. With our near-perfect weather all year, enjoying the great outdoors is a way of life for most Del Martians. Ride up and down the quiet residential streets along the ocean. Del Mar is full of paths and trails that give cyclists an opportunity to relax, exercise and explore. Any way you cut it, Del Mar is a great place to have fun, get fit, and relax!