Visiting Del Mar California
Del Mar California is a dream town – an upscale ocean-side community just north of San Diego. Within the Del Mar city limits, a quaint historical village serves as a backdrop to a small seaside resort first made famous in the 1930's when Bing Crosby, Jimmy Durante and other race horse lovers from the rich-and-famous Hollywood set out to build a horse race track at the fairgrounds.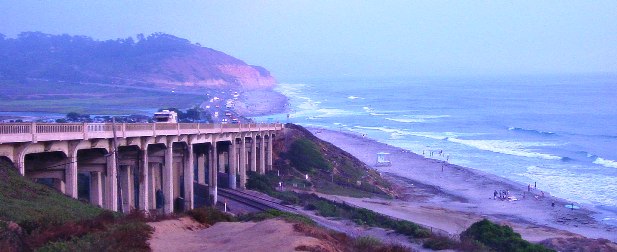 1. The Place To Be Is Epazote
Del Mar's historic downtown village dates back to the 1880's and offers over sixty unique shops, quaint inns and hotels and twenty five restaurants with enough variety to please even the pickiest of shoppers and eaters. A great place to begin or conclude your shopping and dining tour of Del Mar proper is at the impressive Del Mar Plaza at the corner of Camino del Mar (old Highway 101) and 15th Street. The plaza is the home of my favorite Del Mar restaurant, Epazote.
Epazote is a wonderful place for lunch or end of the day cocktails because it has an outdoor patio that swells with sunshine, sea breezes and enchanting panoramic views of the Pacific Ocean. It's also one of Del Mar's favorite nightlife destinations with a contemporary, upscale vibe. Sleek and sophisticated, its 180-degree views of the Pacific, a hip bar, and a cutting edge ocean view lounge makes it a great day or night experience and you can walk back to your hotel. Oh, and did I mention the food – all of it – is creative, unique and wonderful?
2. Take A Hike Through Time
Torrey Pines State Park is a 1700 acre natural habitat to the rare Torrey Pine tree and is one of few locations in the world where the Torrey Pine tree grows. The park offers seven hiking trails with stunning views of wind bent trees, abstract sandstone formations wildflowers and the sea below, all of which is constantly changing as the sun and cloud formations move to change the lighting. Locals park just outside the park in the free parking lot along the ocean and Highway 101 and walk up the hill to the Nature Center for a great workout and spectacular scenery. You can spend a whole day hiking up the cliffs and down to the ocean through red sandstone canyons carved thousands of years ago. Be sure to bring your camera because all the trails have incredible views of the Pacific Ocean. In spring and early summer the hillsides are cove red with native plants ad spectacular wildflowers.
Categories: Abacos, California, Del Mar, USA
Tags: Beach Vacation, California, Cuyamaca Mountains, Del Mar, Del Mar Beach, etraveltrips, Family vacations, Jimmy Durante, Moonlight Beach, Pacific Ocean, San Diego, Shopping, sightseeing, Torrey Pine, Torrey Pines State Natural Reserve, travel