Port Elizabeth, also known as the "Friendly City" and located on the southeastern coastline of South Africa, provides the gateway to the Eastern Cape region via its modern airport and harbor facilities.
It is also a superb value-for-money holiday destination with a range of accommodations to suit all tastes and pockets. From here, you can explore scenic nature trails, heritage sites, breathtaking coastal walks, and every water born sporting activity imaginable. The forty kilometer stretch of beaches around Algoa Bay provide protected swimming in warm water which is perfectly complimented by what has been described as the fourth best climate of any coastal city in the world.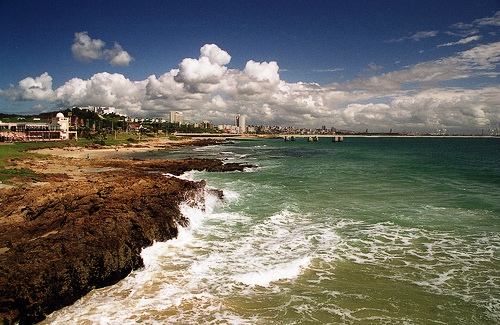 The city benefited from the new Nelson Mandela Bay Stadium that was built for the FIFA Soccer World cup 2010 and has a seating capacity of eight thousand of which half the seats will be installed temporarily for the great event.
The following are but a few of the many other things to see and do around Port Elizabeth:
Bayworld Museum Complex
The Bayworld Museum Complex blends cultural and natural history in a way that stimulates awareness for the need for conservation and mutual respect. Features include the main museum, the oceanarium, the snake park, and the castle hill museum where an early settler cottage is preserved.
Algoa Bay
Algoa Bay is a great attraction for watersport and beach enthusiasts and offers exceptional wind surfing and fishing opportunities, not to mention scuba diving over beautiful reefs, romantic shipwrecks, and fish swimming among colorful corals.
Cape Recife Nature Reserve
The Cape Recife Nature Reserve provides one of Port Elizabeth's best bird-watching opportunities within an unspoiled environment featuring beaches, dune vegetation, and rocky outcrops. Hikers and others may also spot salt-water otters and other small animals.
Donkin Heritage Trail
The Donkin Heritage Trail is five kilometers long and follows in the footsteps of the colonial settlers, linking forty seven historic sites. The Trail is located in the Old Hill area of Port Elizabeth and visitors can go on a self-guided tour stopping in at city hall, the library building, an opera house, an open air theater, and numerous churches.
Fort Frederick
Fort Frederick, which was built in 1799 and has a commanding view over Algoa Bay. Now a monument and tourist attraction, the fort was built to protect against a possible invasion by the French during the Napoleonic Wars.
Apple Express
The Port Elizabeth Apple Express was laid down in 1903 to bring apples from inland farms to the harbor for export. The narrow gauge line, which is one of only two still working in Southern Africa, is today used for recreational purposes. One of the highlights is the crossing of a 77 meter high bridge over a river.
Van Stadens Wild Flower Reserve
The Van Stadens Wild Flower Reserve is a five hundred hectare wonderland. Visitors are encouraged to explore the extraordinary diversity of proteas, fynbos, and succulents in the splendor of a preserved environment. Mountain bikers are also welcome to explore the plateau section of the reserve, as are jeeps and other four-by-fours, provided they adhere to the speed limit and stick to designated roads.
Although one of South Africa's lesser known tourist destinations, Port Elizabeth has much to offer to those in search of a great deal and less hustle and bustle.