What began as Tulsee Town in 1836 under a sturdy oak tree, which still stands today at 18th and Cheyenne Streets, is today the second largest city in Oklahoma. Ask people to describe Tulsa, and you'll likely get many different answers. It was a city forever changed by the discovery of oil in 1901. It is home to art deco treasures and nationally renowned museums.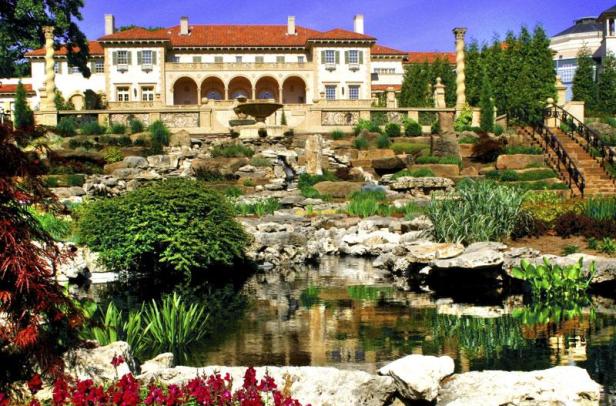 Its African American heritage left its mark, in both the business and music worlds. And it's a city of nostalgia and special memories for countless Americans due to its location on historic Route 66.
Tulsa Must-Sees
Step back in time at the Philbrook Museum of Art, a former oil baron's mansion; race into the future at the Tulsa Air and Space Museum & Planetarium; and explore the American West at the Gilcrease Museum.
For memorable family fun, ride a camel at the Tulsa Zoo & Living Museum, cool off at Big Splash Water Park, then dig into smoked ribs in the log cabin atmosphere of Wilson's Bar-B-Que.
Looking for adult playgrounds? Peruse boutiques and galleries in eclectic Brookside, play blackjack at River Spirit Casino, or sample the vibrant nightlife in downtown's Blue Dome District on fabled Route 66.
Tulsa's musical roots are deep and diverse: Catch live performances at historic Cain's Ballroom and the Oklahoma Jazz Hall of Fame, or stadium shows at the BOK Center.
Sleep in elegant style at the refurbished 1925 Mayo Hotel, one of Tulsa's many Art Deco architectural treasures.
For more information please visit the link below
 http://www.visittulsa.com/