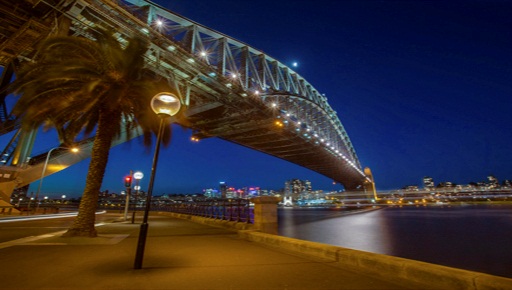 Seeing the sights in Sydney on foot. Known for one of the most picturesque and largest natural harbors in the world, Sydney, Australia, attracts visitors from around the globe.
While people still like to put another "shrimp on the barbie" (I couldn't resist), travel to Australia has come a long way since the days of Crocodile Dundee. But one thing is for sure: You'll still enjoy good old Australian hospitality as you're greeted with a "G'day Mate," every morning.
We only had a couple of days to explore Sydney during a stopover after exploring Queensland's tropical north. Booking a room at The Mantra 2 Bond Street Hotel, which is located in the heart of the city, put us within walking distance of all the major attractions. Once we laced up our walking shoes and slathered on our sunscreen, we set out for a tour that showcased the best of Sydney in a day.
From our hotel, we walked directly to the waterfront to check out the Sydney Harbour Bridge, the world's tallest steel arch bridge. Built in 1932, the bridge is one of the most recognizable structures in the world. It's an impressive sight to admire, but you must be sure to walk on it, as well. The pedestrian walkway takes you to the Pylon Lookout, where you can learn how the bridge was built at the turn of the 20th century and enjoy clear panoramic views of the city.
Viewfinder Tip: For the truly adventurous, try the Sydney Harbour Bridge Climb, during which you scale the bridge to a dizzying height of 440 feet.
The Rocks
Located at the foot of the Sydney Harbour Bridge, the oldest district in the city is known as The Rocks. Filled with cafés, restaurants, and shops, this neighborhood is a great spot to grab a meal or just hang out. Stone buildings that date to the last century preserve the heritage of the colonial district. There also are narrow passageways and historic plaques telling the history of the first English district in the city. Keep an eye out for the Nurses Walk, which honors those who took care of sick convicts who arrived in ships.
Categories: Abacos, Australia, Sydney
Tags: Adventure Travel, Australia, Circular Quay, Circular Quay railway station, City Vacations, Darling Harbour, Eiffel tower, etraveltrips, Family vacations, Historical site, Museums, Sydney, Sydney Harbour Bridge, Sydney Opera House, travel, Vivid Sydney