The Warwick Hotel New York City
The Warwick Hotel New York combines the trifecta of Old World elegance, 4-star luxury and a prime location. Founded by publisher William Randolph Hearst in 1926, 426 comfortable accommodations boast marble bathrooms, and vibrant, 1930's-style artwork decorates the walls of the on-site restaurant. Long popular among high-society guests and stars filming in the city, Hearst had this hotel built for sentimental reasons, and that romantic quality still twinkles in the air.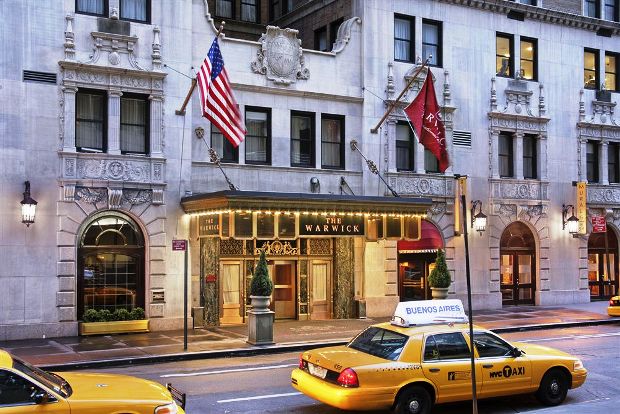 Once a favorite of James Dean, Elizabeth Taylor, Elvis Presley and the Beatles, the Warwick New York Hotel is now patronized by the jet-set, visiting dignitaries and vacationers seeking the class and glamour of old New York. Guests are transported from tourist-jammed Sixth Avenue into a European-style lobby with marble floors, dark wood accents and a gilded, golden chandelier. For a quick taste of the old school life, head directly to Randolph's Bar and Lounge, which has long been one of New York's most beloved watering holes.
All the major amenities a guest would expect from upmarket NYC accommodations are present inside the Warwick, including a gym, currency exchange, baggage storage, laundry facilities and concierge service. Anyone planning special events or business while they're in the Big Apple should take advantage of the meeting room, business center and banquet facilities.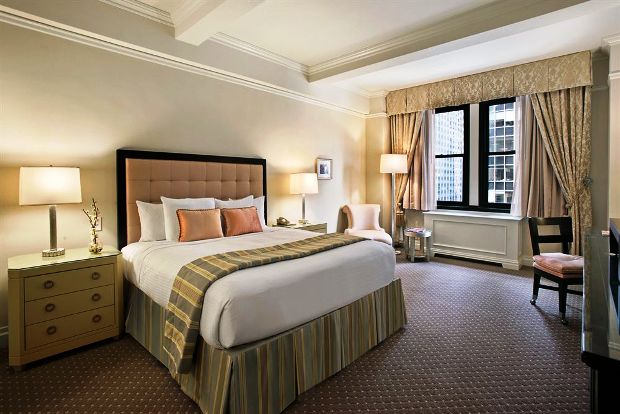 Guest Rooms
The hotel features 359 spacious guestrooms and 67 richly appointed suites, all the rooms are large, comfortable and beautifully appointed. The guests can choose among classic, deluxe, premier rooms or suites. Also signature suites, Hollywood suites and the Suite of the Stars are available. Everything you need is here: high-speed wireless internet access, mini bars, in-room safes, dual-line phones, voicemail, cable TV channels, movies on demand, bathrobes and slippers, baby crib (provided upon request), hairdryer, umbrella, radio and alarm clocks, marble bathrooms, roll-away bed  and of course individual climate control.
Categories: Abacos, New York, New York City, USA
Tags: City Vacations, etraveltrips, Historic Hotels, Hotel, James Dean, Luxury Hotels, Madison Avenue shopping, New York, New York City, new york city hotels, New York Hotel, Old World, Radio City, Rockefeller Center, Sixth Avenue, Times Square, Warwick Hotel New York, William Randolph Hearst