Discover the Healthiest, Most Vibrant You this Year! Canyon Ranch in Lenox, Massachusetts
Escape to charming Lenox, Massachusetts, in the heart of New England, for an energizing, fun vacation where all things are possible. In the heart of charming New England, Canyon Ranch will quickly work its magic on you, so you can relax, rejuvenate and feel your absolute best. Enjoy great savings, too!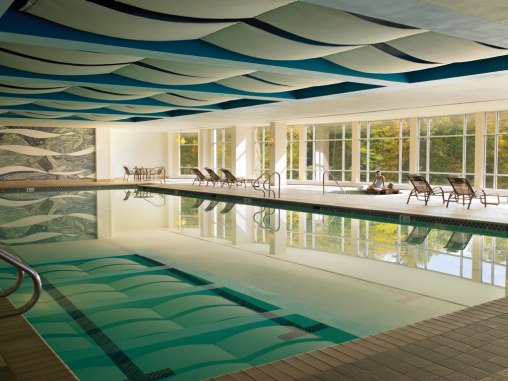 At Canyon Ranch, you'll find endless ways to explore life's possibilities. Choose from dozens of fitness and outdoor activities daily and engaging presentations and workshops on food, lifestyle, spirituality and creative arts – all while enjoying exquisite pampering, healthy cuisine, sublime scenery and an inspiring, stress-free environment. Whether you're hiking a mountain trail or enjoying a hands-on cooking class, this is an experience that will nurture and stay with you forever. Plus, you have the chance to consult with top physicians, nutritionists, exercise physiologists, life management specialists and other integrative health and wellness experts who can help you feel fit and vibrant for life.
Your Canyon Ranch in Lenox stay includes:
Gracious accommodations
Three gourmet meals daily, plus always-available healthy snacks
Generous allowance for spa, sports and integrative wellness services
More than 40 fitness classes and activities daily
Unlimited access to truly incredible facilities
Transfers to and from Hartford or Albany airports, or the Albany (Rensselaer) train station, or complimentary valet parking
The kindness, warmth and expertise of our caring staff
Click here for more information
Book your perfect vacation: 888-708-0780
Simply mention "New You"
Categories: Abacos, Lenox, Massachusetts, USA
Tags: Albany, Canyon Ranch, Health, Lenox, Lenox Massachusetts, Massachusetts, New England, Romantic getaways, sightseeing, Spa Vacations, travel