Visiting the city of Brighton England
If you want to let your hair down and enjoy yourself there's no better place to go than the seaside city of Brighton on the South coast of England. Brighton is situated between the South Downs and the Sea and has been a popular tourist destination for many years. It's a great place for families and adults alike with a wealth of shops, bars, clubs, restaurants and seaside attractions.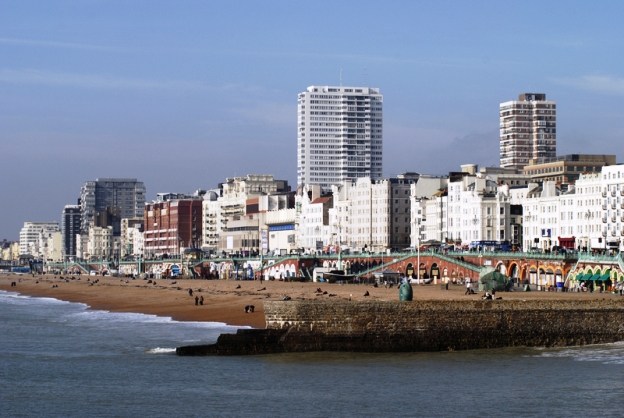 Whenever I go to Brighton I have to visit Brighton Pier. The pier is great fun and caters for everyone. From the arcades to the fun fair, it is designed for your entertainment. The pier was built at the end of the 19th century. It opened for the first time in 1899 and it is still a thriving tourist attraction today. Admission is free and visitors can have a drink in one of the bars, enjoy some traditional fish and chips in the restaurant or have fun on the numerous rides at the end of the pier.
The seafront is famous for its club culture. Visitors come from far and wide to enjoy a night in one of the bars, clubs and alfresco cafes along the promenade. There are also many family attractions along the seafront including the Brighton Sea Life Center which is both fun and educational with over 150 different species. Visitors can enjoy 57 displays from giant turtles and sharks to piranhas and poison dart frogs.

Volk's Electric Railway is another popular attraction. The railway was opened in 1883 and claims to be the worlds oldest electric railway. The track is just over a mile long and runs in the Spring and Summer season from Aquarium (Brighton Pier) to Black Rock (Brighton Marina).
The Brighton Marina
Along the coast to the East of Brighton Pier you will find Brighton Marina, the biggest marina complex in Europe. Walk along the quay, admiring the impressive boats and yachts. There are over 1,500 berths as well as a leisure and shopping complex with a multiplex cinema, casino, bowling, restaurants and bars.
Shopping
Brighton is popular with shoppers due to the fact that there is such a large variety of shops. From independent stores to well known chains, there's something to suit everyone.
Categories: Abacos, Brighton, Europe, United Kingdom
Tags: Brighton, Brighton and Hove, Brighton Marina, Brighton Pier, Buckingham Palace, England, Royal Pavilion, South Downs, United Kingdom