Vacation in beautiful Sharm El-Sheikh, Egypt
Sharm El-Sheikh, the biggest and most important city of Sinai, lies at the southern flank of the Peninsula where the two gulfs of Aqaba and Suez meet with the Red Sea. With its diverse features of environment that combine together history, tourism, industry and agriculture, it has become a main attraction for tourists, travelers and businessmen. Sharm el-Sheikh is probably the best-known city of the Red Sea coast, it locates on the south of Sinai.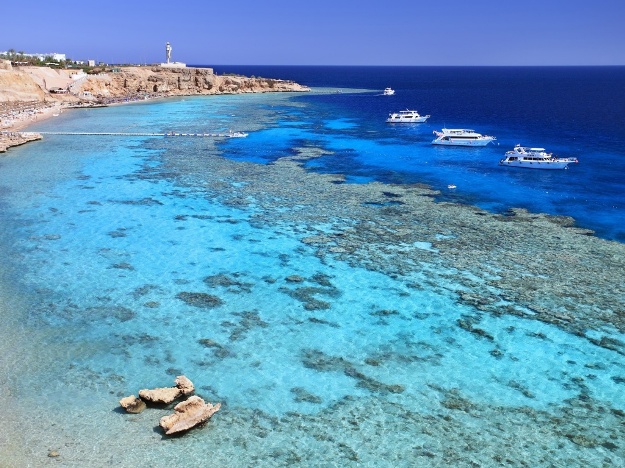 For so many reasons this city became so famous: 1st Sharm-el-Sheikh gave the Red Sea an international reputation as one of the world's most extraordinary diving destinations. Second the city has so many resorts and hotels and all possibilities for tourists. And the 3rd – the city is too clean and considered to be a piece of paradise. One more reason makes Sharm-el-Sheikh have this standing – the coral reefs of Ras Mohammed, Tiran and the Aqaba coast, on which Sharm built its legendary reputation, are as dazzling as ever.
History of Sharm el Sheikh
Before 1967, Sharm-el-Sheikh didn't even appear on most maps of Egypt and it was politics rather than diving that first brought the world's attention to this tiny port. To be situated right at the approach to the strait of Tiran, Sharm became famous when Egypt's President Nasser decided to blockade the straits, thus cutting off Israel's access to the Red Sea. The direct result of the blockade was the Arab-Israeli conflict of June 5th, 1967, and Sharm-el-Sheikh began to grow only in 1968, under Israeli occupation. Over the ensuing years it gradually began to attract divers, travelers and resort guests, but its strategic importance is still evident.
The town's large southwestern inlet, Sharm- el-Sheikh bay, remains a military harbor. Sharm El-Sheikh, apart from its military strategic position, was considered for more than 25 years an isolated part of Egypt. Only after the liberation war and Egypt's victory in 1973, and the ensuing peace agreement, the wonderful city of Sharm El-Sheikh emerged as a promising resort laden with many prospective potentials of prosperity.
Cultural & religious Tourism in Sharm el Sheikh
Visitor of Sharm El-Sheikh city will get a glimpse of cultural and religious tourism by visiting historical sites available at an arm's stretch. At the East of the city lies The Monastery of St. Catherine. It is one of the very few early Christian building complexes that have not been destroyed or reconstructed several times over the centuries. The monastery spiritual heritage is beyond estimation. Also there are other monasteries scattered in Sinai desert such as the monastery of Seventh doughters. To the north of the city lies the famous temple of the ancient Egyptian godesse Hathor Sirabit el Khadim temple which dates back to the reign of the king Amenophis IV.
Quarters of Sharm el Sheikh
Sharm El-Sheikh city has been subdivided into six homogeneous centers namely: Sharm el-Mayya (yacht marina), Umm-Sayyed plateau, N'ema bay that comprises the largest number of tourist villages and entertainment facilities, Ras Nosrani where the airport lies, and Ghargana to the north of the airport.
Ports of Sharm el Sheikh
Sharm El-Sheikh International Airport has been developed and expanded to receive big aircraft and the steady increase in the number of flights; it is accommodating now 1200 passenger/hour. The port of Sharm El-Sheikh, which can accommodate different types of vessels, played an essential role in connecting the city with the world, besides smaller local ports for diving boats. The development in the city offers an exclusive world of luxury and elegance. A fantasy world of space and style is there comprising glamorous low density resorts, exclusive sports' facilities, unparalleled food courts and shopping centers.
Population of the city.
Most of the population of the city is working in tourism, construction, health and education sectors. The most of people here came from anther Egyptian cities. The total inhabitants of Sharm El Sheikh hit some 35000. Those are number are accommodated in 9700 housing units, 3% of which are owned by the indigenous residents (Bedouins), 11% provided through government housing program, and 86% is mainly tourist lodges.
Activities in Sharm el Sheikh
The city has turned to a hub of activities to meet the promising investment prospects. New beaches were expanded and tourist villages were established to accommodate the flow of tourists who flock to enjoy the unique environmental facilities. Visitors of Sharm El-Sheikh experience a variety of water and land activities. Beach seekers find enormous activities such as diving, snorkeling, wind surfing, pare sailing, banana boats, and canoes. Adventurers and sportsman find Sharm El-Sheikh a haven offering diverse activities such as golf, tennis, horseback riding, camel riding, volleyball, and desert safari to various oasis and wadies.
Sharm El-Sheikh – the city of peace and beauty
The city of Sharm El-Sheikh is always referred to as the "Land of Peace" as many political, scientific and tourist conferences and meetings were held over its land. Sharm El-Sheikh city offers a variety of tourist attractions ranging from a dramatic mountain backdrop to stretches of golden beaches on matchless waters.
Categories: Abacos, Africa, Egypt, Sharm El Sheikh
Tags: Aqaba, Beach Vacation, Egypt, Family vacations, Israel, Scuba Diving, Sharm, Sharm El Sheikh, Sheikh, Shopping, sightseeing, Sinai, UNESCO