Medieval castles, cultural festivals and magnificent scenery: just three of the reasons to see Europe from the deck of a river boat. These European river cruises will make a variety of destinations available. And there is a European river cruise for everyone. Popular river cruises in Europe can include The Danube, The Rhine, The Moselle, The Nile, The Volga, The Seine / Rhone and many, many more.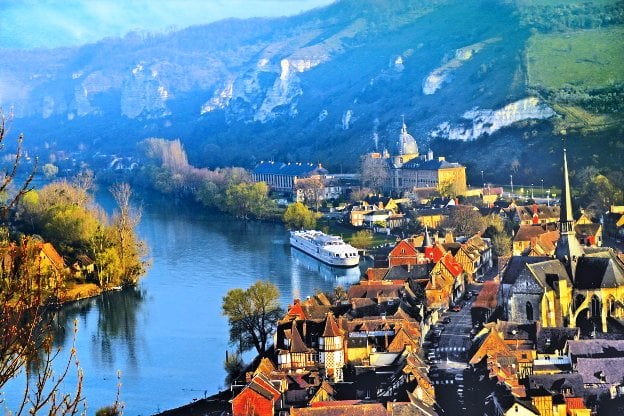 Danube River Cruises
Flowing more than 1,800 miles through ten different countries, the Danube is the second longest river in Europe. One of the most significant boundaries of the ancient Roman Empire, the Danube has long been a symbol of power, commerce, and beauty – not to mention the subject of artists and musicians all throughout history. Revel in exquisite landscapes full of vineyards and beautiful architecture, and encounter the cultures of Vienna, Budapest, Passau, Melk, and Durnstien on this incredible river cruise. Click here to find out more information on Danube River Cruises.
Elbe River Cruises
Get a closer look at the breathtaking landscapes of Germany and the Czech Republic on a spectacular Elbe River Cruise. Featuring everything from rocky formations, exquisite vineyards, and quiet meadows, the geography of the land presents river travelers a view they'll not forget. Notice the unique juxtapositions of historic cities and tiny villages, and don't forget to take an opportunity to experience all of the great art, food, creativity, and unique cultures of cities like Berlin, Dresden, Oderberg and Prague. Click here to find out more about Elbe River Cruises.
Rhine River Cruises
One of the most famous rivers in all of Europe, the Rhine River grants travelers a breathtaking view of the Rhine Valley, home to more castles than any other river on Earth. With every turn of the river, you will find majestic views of the Netherlands, Germany, France, and Switzerland. Venture past the beauty that is contained in Germany's most famous vineyards, Cologne's Gothic Cathedral that has stood for 700 years, and much more. Amsterdam, Dusseldorf, Frankfurt, Mannheim, Speyer and more await you on this beautiful river trip. Click here for more information about Rhine River Cruises.
Categories: Abacos, Austria, Croatia, Europe, France, Germany, Holland
Tags: Cruises, Danube, Douro, Family vacations, Germany, Netherlands, Paris, Rhine, River cruise, Seine