Gillette Castle State Park
High on the hill overlooking the beautiful Connecticut River between Lyme and Haddam is the site of one of the most unique castles constructed as private residences in New England during the late 1880's and early 1900's. Gillette Castle was designed and built between 1914 and 1919 by William Gillette, an actor who gained fame and fortune for his early stage portrayals of Sherlock Holmes at the turn of the century.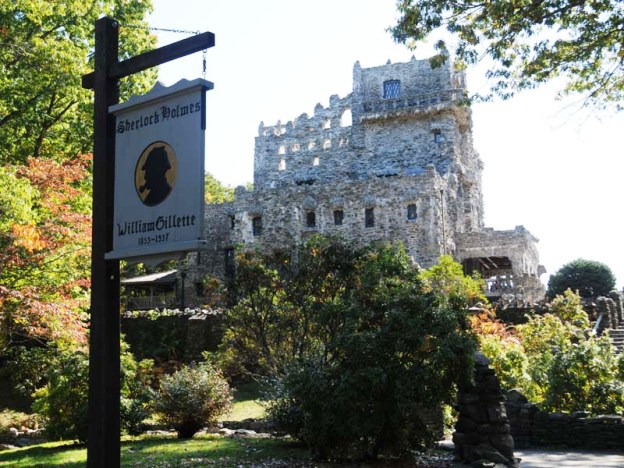 Gillette was born to a prominent Hartford family in 1854 and was bitten by the acting bug in his teens. Although his parents would have preferred a more traditional career, his renown grew as an actor and he achieved considerable success. What took his career to its greatest heights at age forty-five was when he adopted Sir Arthur Conan Doyle's Sherlock Homes writing to the stage, and in 1899 traveled to England to present his script to Doyle seeking approval.
Gillette met him at the train station disguised as Sherlock Homes and approached Doyle slowly saying, "You're the writer, no doubt about it." They hit it off immediately, Doyle liked the script and the two became close lifelong friends. With Doyle's approval and blessings, Gillette added many of the most distinctive details we have come to associate with the Sherlock Homes character such as the deerstalker cap, the Inverness cape and pipe. He actually was the origin of what would become Sherlock Homes' most remembered line, "This is elementary, my dear Watson."
With this character portrayal, William Gillette became one of the most popular American actors of his day playing Sherlock Homes over 1,000 times and earning him over $300,000 a year which was a huge income at the time. In 1913 at fifty-nine, after acquiring a tidy fortune Gillette was sailing up the Connecticut River on his houseboat, Aunt Polly, and spotted high on the east bank a hill which is the southernmost of the Seven Sisters ridgeline. He moored his boat, climbed the hill, and was so taken by the views and open space that he purchased the land almost immediately.
Categories: Abacos, Connecticut, East Haddam, USA
Tags: Arthur Conan Doyle, Connecticut, Connecticut River, Family vacations, Gillette, National Register of Historic Places, New England, Sherlock Holmes, William Gillette