The adventure-travel epicentre of the canyon country is a surprisingly small town. But even with a population of just under 5,000, Moab boasts enough great-outdoors options—plus epic film-worthy scenery to match—to justify a town ten times its size. The city, named after a Biblical kingdom, started life as a Mormon settlement in 1855, and went through a phase as a uranium boom town in the 1950s. Moab's latest incarnation began in the 1980s, when proponents of a nascent sport called mountain biking discovered that the endless miles of colourful sandstone known as 'slickrock' were perfect for fat-tyred fun.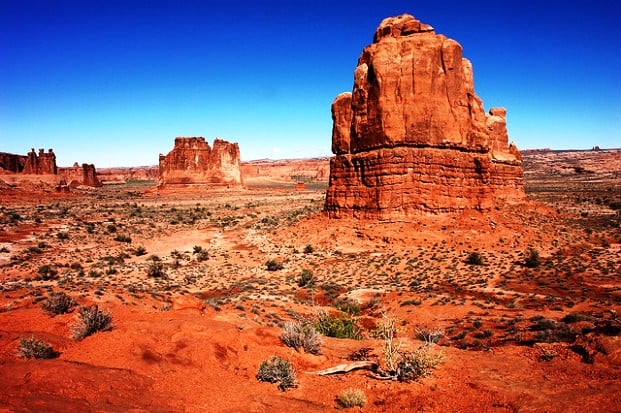 Moab has off-road trails galore, from easy spins to challenging single-track loops. The 'granddaddy' of them all is the punishing 10-mile Slickrock Trail, a kind of rite of passage for serious bikers—but starting with a shorter practice loop to get a feel for the naked sandstone is strongly recommended. The city's unique location, in a narrow green valley split by the Colorado River, has made it known for prime river-rafting as well.
Numerous local tour companies such as Tag-a-Long Expeditions will guide you down white water on the Colorado or the nearby Green River. They'll also arrange multi-day float trips down the placid Labyrinth or Stillwater canyons on the Green River.
But it was Moab's ideal location that sealed its fate—it's an easy 10 minutes from Arches National Park and less than an hour from Canyonlands National Park. Hiking trails and astounding views fill both, and rough dirt tracks and prospectors' roads left over from the area's mining days have helped make Moab one of the most famous destinations in the country for four-by-four enthusiasts or 'jeepers', as they're known locally, who arrive in droves for Jeep Safari on Easter weekend.
On a more refined note, September brings the strains of chamber music, jazz and bluegrass to the red rocks during the world-renowned Moab Music Festival. Then it's wild fun again when fat-tyre fans gather at the end of October for the Halloween Bike Fest-Evil.
Among the growing number of places to hang your hat, try the Gonzo Inn for the touch of retro 1970s charm it brings to this old mining town, complete with a bike wash station in the back and a pool that beckons your slickrock-weary body.