The Iroquois attributed these long, relatively narrow lakes to the Great Spirit, who laid his hands in blessing on this particularly beautiful area of upstate New York. Unless the Great Spirit had eleven fingers, though, it's more likely that glacier activity carved them out eons ago.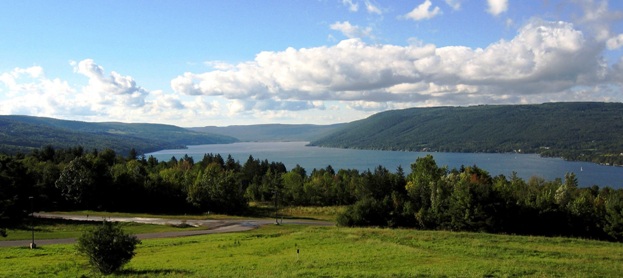 Most are deep—Cayuga and Seneca, the two largest, are 400 and 632 feet deep respectively, about 37 miles long and framed by steeply sloping banks. The parallel lakes cover an area no more than 100 miles across in a bucolic region where farm stands still work on the honour (or trust) system, and the sleepy Main Streets of 19th-century towns like Geneva, Skaneateles and Hammondsport invite strolling and antique hunting.
The American women's rights movement was born in Seneca Falls on July 19, 1848. Elizabeth Cady Stanton, a local mother of three, organised the first Women's Rights Convention (whose Declaration of Sentiments declared that 'all men and women are created equal'); today, the town's Women's Rights National Historic Park includes Stanton's house. A whiff of the region's countercultural tendencies can be found in Ithaca, home to Ithaca College and Cornell University on Cayuga Lake. Boats criss-cross the lakes, and you can jump aboard the 48-foot postal boat that services Skaneateles Lake, one of the country's last water routes for mail delivery.
With soil and topography that mimic the best of the German wine-growing districts, the Finger Lakes 'boutique' vineyards—today numbering more than 100—are recognised as some of the country's best, especially for their Rieslings and chardonnays. Six wine trails lead visitors to wineries and picnic areas with spectacular lake views, the most popular being Keuka, considered by many to be the prettiest of the lakes. Keuka Wine Trail includes the pioneering Dr. Konstantin Frank's Vinifera Wine Cellars, outside Hammondsport, and nearby Pleasant Valley Wine Company, whose eight historic stone buildings and lavish Visitor Centre add up to one of the best tours in the region. Taste with abandon on the Wine Tour Trolley of Seneca Lake, a seven-hour trip leaving from Geneva, with five stops including Standing Stone, one of the region's best wineries, and let the trolley's designated driver get you back to your lodgings.
Seneca Lake is the location of Geneva on the Lake, a 1910 hotel inspired by a rural Roman villa with a beautiful expanse of parterre garden leading to the lakeside pool. At ice blue Skaneateles Lake—the highest of the Finger Lakes and among the cleanest in the country—the Mirbeau Inn and Spa is a Francophile's dream of mud wraps and Vichy-water scrubs, with an exceptional restaurant and lily ponds straight out of a Monet painting.
Along Cayuga Lake Scenic Byway, which rings the lake, lies Aurora, a picture-postcard town of 650 that is experiencing a multimillion-dollar renaissance thanks to Pleasant Rowland, creator of the line of American Girl dolls. In partnership with local Wells College, her alma mater, Rowland purchased MacKenzie-Childs, which makes wildly fanciful majolica dinnerware and whimsical furniture on a nearby 75-acre former dairy farm. The unusually fine 15-room Victorian farmhouse made over as a MacKenzie-Childs showcase is open for tours. Rowland also restored the Aurora Inn, a red-brick Federal-style inn built in 1833. Standing centre stage on Main Street, its ten luxurious guest rooms and suites are perfectly appointed, and its restaurant dishes up American classics like a mouth-watering pot roast.