Exploring iconic Pacific Coast Highway 1 along California's coast
There was a time in my early 20s when I'd plan a trip down to the most exact detail. Back then, I was relatively new to traveling—having discovered wanderlust after a stint abroad during college—and planning trip logistics, to me, was as fun as the actual vacation itself. But 16 years ago I married a man who is a bit more laid back about prepping for travel. He prefers serendipity to reading guidebooks. It's rubbed off.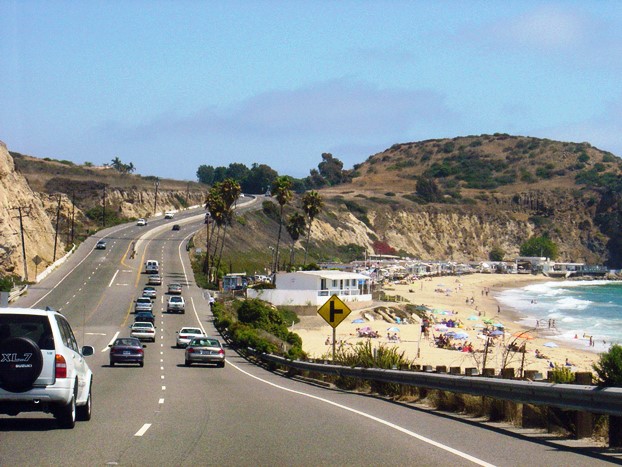 Maybe that's why I hadn't done much reading about the Pacific Coast Highway (PCH) before we set off to drive from San Francisco to Los Angeles (while overnighting in Carmel and Santa Barbara), primarily along California's iconic Highway 1. Sure, I'd heard about this beautiful coastal drive, and I'd seen pictures of the rugged coast, but that's about it. We packed our rental car with an atlas and set out with little prior knowledge (though my husband had done the drive two decades prior). I went with an open mind, discovering some surprises along the way and picking up some tips for the next time we explore California by car. Here are my suggestions.
Don't drive from Carmel to Santa Barbara in one day. One day from Carmel to Santa Barbara is all our schedule allowed (our entire trip to California was just four nights), and I wish we'd had more time to hike the ancient redwood forest in Big Sur, scoot inland to Paso Robles for some wine tasting, or overnight at the wacky Madonna Inn in San Luis Obispo. Driving curvy PCH, especially the ultra-scenic Central Coast from just south of Carmel to San Simeon, invites a slow pace, almost daring you to make time to op into the many coastal state parks for picnics, beach walks, and birdwatching.
Viewfinder Tip: When you pay the day-use fee at any California State Park, that receipt will allow you into subsequent state-operated parks and beaches on the same day.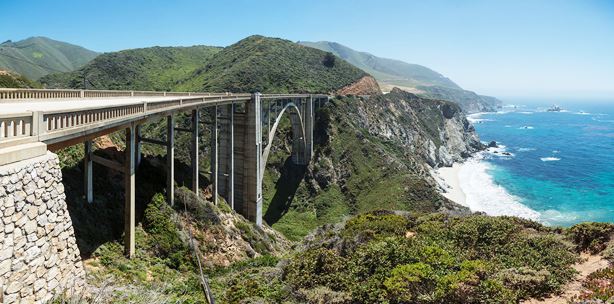 "Bixby Creek Bridge, California, USA – May 2013" by Diliff – Own work. Licensed under CC BY-SA 3.0 via Wikimedia Commons.
Get out of your car to do more than just snap photos. We barely had time to get out of the car on this trip. And while I appreciated the misty, fresh air (especially when twisty turns started making me feel a bit queasy), and vantage points from the high overlooks where we could park our car for best views, we should have made a point to hike in Big Sur's Julia Pfieffer Burns State Park. Here, one trail leads to a waterfall and another leads down to the beach. A historic attraction that caught my eye: The 19th-century Point Sur Lighthouse, which visitors can tour with guides a few times weekly. Another great spot to get out and poke around: Hearst Castle. Though this attraction is almost always overrun with tourists (especially in the summer months), I wouldn't mind stretching my legs on the 127-acre grounds and walking through the opulent rooms in the hilltop mansion, built by William Randolph Hearst in 1919.
Pay the toll for 17-Mile Drive. My first thought upon arriving at the start of 17-Mile Drive: "Why would I pay $10 to detour 17 miles?" But then I figured, "Why not? Who knows when I'll be back." I'm glad we did. The entrance to this gated community is right off Highway 1 south of Monterey, and it took us about an hour to wind past handsome homes, drive alongside the Pebble Beach golf courses, and best of all, pull off at coastal scenic points of interest (spelled out in a helpful map you get at the toll booth). Two of the overlooks were closed during our April visit due to harbor seal pupping season, but we still enjoyed watching crashing waves on rocky shoreline and taking photos of the Lone Cypress, a tree that has perched on a cliff for more than 250 years.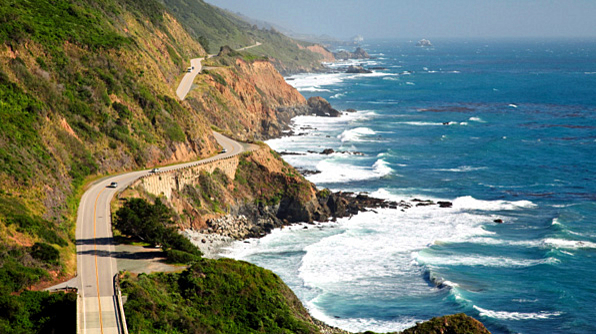 Elephant seals as far as the eyes can see.
Don't miss the Piedras Blancas Elephant Seal Rookery. After being denied seal viewing along 17-Mile Drive, and having to watch them from afar while hiking at Point Lobos State Natural Reserve, we were delighted to find hundreds of elephant seals fighting for space on the beach about four miles north of Hearst Castle along Highway 1. When we visited toward the end of April, it was time for annual molting, so the seals were coming to shore to shed a layer of old skin and all of their hair. At other times of year, the seals do different things; stop by in January to witness seal pup births. Had it not been for the stink, I could have walked the boardwalk to watch them for hours; the juvenile males sparred with one another, while others lazed and flipped sand on themselves to keep cool. Docents were on hand to answer questions about these massive mammals, which can weigh as much as 5,000 pounds.
Be aware of cyclists. I couldn't believe the number of people on road bikes and saddled with panniers cycling PCH. That kind of journey is not my cup of tea, but those bikers seemed to manage navigating a very narrow shoulder on the road up and down hills and around curves.
Scenic drives have rush-hour traffic, too. California Highway 1, also called Cabrillo Highway here, serves as the main drag through Santa Cruz, past strip malls, fast-food joints, and grocery stores (admittedly not the most scenic part of the trip). We happened to be on this stretch at about 5:30pm, so, not surprisingly, we encountered a lot of traffic. Be prepared to go with the flow at this time of day; traffic also can be slow-going at other junctures, particularly at photo-op pull-offs and curvy sections.
What's your favorite scenic drive?
Expedia compensates authors for their writings appearing on this site, such compensation may include travel and other costs.