Universal Studios Hollywood King Kong 360 3-D Created by Peter Jackson –the world's largest, most intense 3-D experience — takes guests to the next generation of theme park excitement.
Riders on the Studio Tour tram will be transported, via a darkened sound stage, to King Kong's home – Skull Island – where through the magic of the world's largest Surround Digital 3-D projection system they are thrust in the middle of a ferocious battle between the worlds' most famous ape and a giant T-Rex. Visitors will feel the tram jolt and reverberate as the 3-D battle unfolds around them.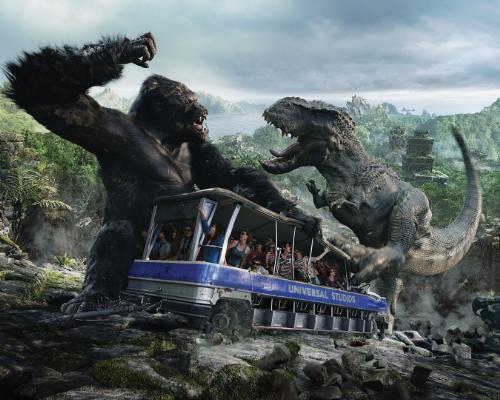 Studio Tour guests will also have a first-hand look at the more than 4 acres of newly rebuilt backlot sets. The modern tour trams now feature flat-screen hi-def monitors and playback systems with commentary from filmmakers, actors and personalities plus clips from numerous movie and television productions corresponding to sites visited along the Tour route
Behind-the-scenes movie-magic continues at Universals' all new Special Effects stage, where guests will learn the secrets behind the making of their favorite blockbuster films. Interactive demonstrations of CGI, stop motion, motion capture, and 3-D technologies will give visitors an in-depth behind-the scenes look.