Valley of Fire State Park Nevada is only a few miles from Las Vegas lies Nevada's oldest and, according to this author, one of its prettiest State Parks. Valley of Fire offers fantastic scenery for photographers, pleasant hikes outside the scorching summer months, and petroglyph's for the historian in you.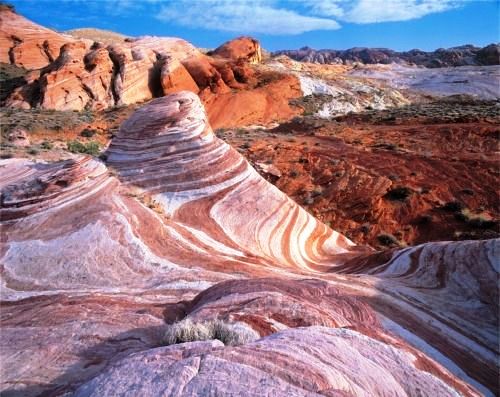 The close proximity to Las Vegas makes this one of the most visited parks in Nevada, which still does not mean much by California standards. A few large coach buses shuttle people here every day and a couple of intimate tours from Las Vegas arrive as well, but you can easily avoid them if you come with your own car. Hike just a mile from the beaten path and you will find yourself alone amidst one of the strangest landscapes in the west.
Getting here
From Las Vegas, take I-15 north. Take exit 75 and follow the signs to Valley of Fire. The visitor center is about 19 miles from the exit.
From St. George UT, take exit 93 and follow NV-169 south. After about 21 miles, turn right on Valley of Fire Hwy.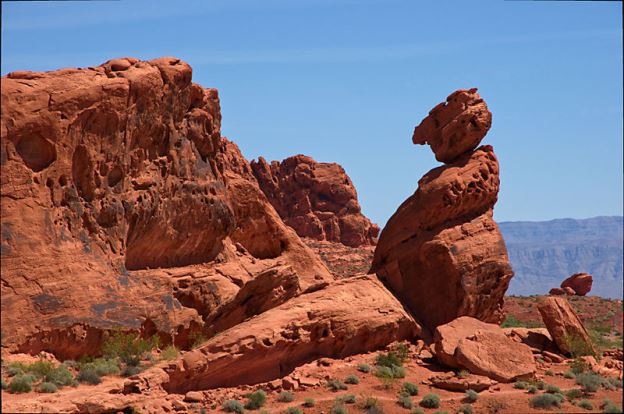 Exploring the Park
The spectacular Valley of Fire State Park has much to offer. You can easily spend an entire day exploring. Check with the visitor center first and get a trail map or bring a topographic map and GPS receiver if you prefer to get away from the beaten path. Set a way point at your car and bring replacement batteries and even a replacement device if you have one. Always go with a hiking partner who can get help in case of an emergency and check in with the rangers before leaving.
A road and well-used trails lead to the most prominent features of the park.
Atlatl Rock: A large panel covered with petroglyph's accessible via a viewing platform.
Arch Rock: A small natural arch on the crest of a large sandstone.
Beehives: Sandstone formations on the nearby cliffs that look like little caves.
Petrified Logs: Ancient petrified tree trunks.
Rainbow Vista: A colorful view over the badlands. It is one of the best places to view the sunset in the park. The colorful stones will glow in hues from Yellow to Purple.
White Domes Trail: A trail that leads through an old movie set (now mostly gone), colorful sandstone formations, and a small slot canyon. Don't miss this one!
Seven Sisters: Picnic areas in front of some mildly interesting rocks.
Cabins: Native sandstone cabins from the 1930's.
Elephant Rock: The most prominent formation in the park. It also adorns the park brochure. Don't miss it!
A few other great places require hiking the back country. Hike the wash near Clark Memorial to the north for about two miles and you will find a delicate sandstone arch.
I passed the exit to Valley of Fire many times on my way to and from Las Vegas, but I am glad I decided to stop here during my last trip to the Southwest. It certainly wasn't my last visit to this unbelievably beautiful State Park.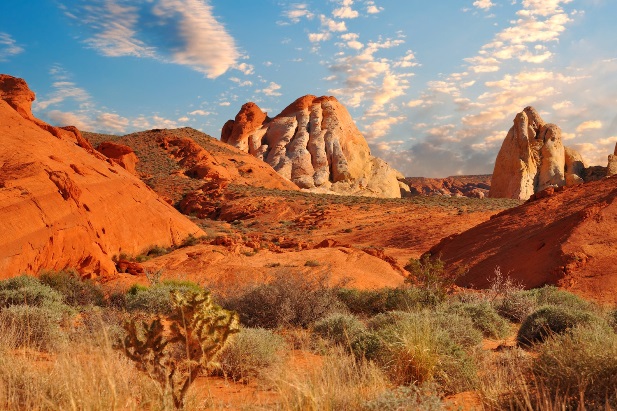 Useful Information
Fee
The entrance fee to the park is $6 per vehicle. I have seen people turn around because of this fee, which seems strange after driving all this way out here. It is well worth paying as the unique sights and outdoor activities will more than compensate you. Camping costs $14/night.
Lodging
You can also camp here, but why should you. You can be in Las Vegas in one hour. Vegas Hotels are cheap for their class, because they are subsidized by the casino business. Las Vegas also offers the most dining choices in this area.
If you start your trip in Las Vegas, you can stay the next night in St. George, Utah or Hurricane, Utah and see Zion National Park the next day. Both cities offer ample lodging.
Weather / Climate
Summers get extremely hot here. Temperatures of up to 120F (49C) have been reported. Bring plenty of water and limit your outdoor exposure. I do not suggest visiting the park in summer.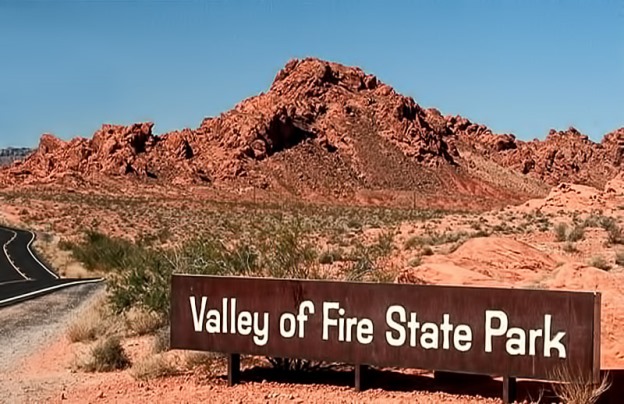 Facilities
The Visitor Center is open 8:30 to 4:30. There is no food in the park besides a snack- and a drink-vending machine in the visitor center. People may raid those in summer. Don't count on them being well stocked.
There are some shaded picnic areas and rest rooms near all major trail heads. The restrooms at the visitor center are much better though and worth the drive .
RV hookups are also available for an additional charge of $10.
For more information you can click here to go to the national park site